Hulk's Cousin She-Hulk Is About to Inherit His Monstrous Problems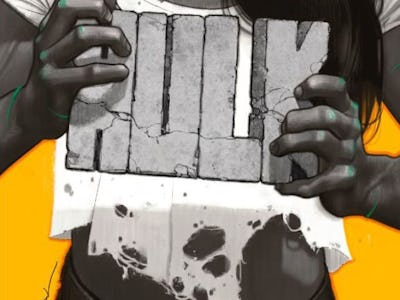 Marvel Comics
Marvel's Civil War II has taken a massive toll on the Hulk family. Bruce Banner is dead and his cousin, Jennifer Walters, aka She-Hulk, is barely recovering from life-threatening injuries sustained from a fight with Thanos. And the new Hulk, a mourning Amadeus Cho, is still just a teenager throwing temper tantrums and arguing with Carol Danvers and the Avengers.
In a new title launching in December from Skim and Tomb Raider writer Mariko Tamaki and artist Nico Leon, Walters will star in her own series in the simply-titled Hulk, indicating a bold and darker outlook for Marvel's strongwoman.
To editor-in-chief Axel Alonso, Walters's previous title She-Hulk evoked "light-hearted stories" about Jennifer "at peace with herself and in full control of her powers." That won't be the case in Hulk. "On the other hand, the title Hulk implies all of the baggage that comes with that comic's 50+ year history," explains Alonso. "That's why it's more appropriate for this series. Jen went through major trauma in Civil War II, and Mariko and Nico's story will deal with the fallout of that trauma."
Alonso also teases Hulk being about internal struggle just as much as it is about punching monsters. "If there is light at the end of the tunnel, Jen is going to have to search hard for it, and she's going to have to battle with some pretty big monsters — including the one within — to find herself again."
"Much of it was inspired by thinking about how different people deal with the hard things that happen in their lives, how memory, trauma, can infuse our whole being, be a physical presence in our lives," says Tamaki. "I was really into the idea of a Hulk, of the ability to transform into something close to monstrous, that's still human, and heroic."
All of this sounds classically like The Incredible Hulk, a monster-horror comic about identity, guilt, and anger long-disguised as a superhero series. Other Hulk-related books not starring Banner have also been vastly different in tone, like Greg Pak's The Totally Awesome Hulk, which until Civil War II, was about Amadeus Cho on a Hulk-sized joyride with his powers.
She-Hulk isn't replacing anything or anyone, but she is filling the void left by Banner. It's also a good time for Marvel to produce another female-led comic, as titles like Jane Foster-starring Thor, Silk, Spider-Gwen, and Ms. Marvel have been some of Marvel's bestsellers in recent history.
Hulk will arrive at retail with issue #1 in December.