George R.R. Martin Has Lots of 'Game of Thrones' Spinoff Plans
David Benioff and D.B. Weiss doubled-down on their distance from any spinoffs at the Emmys, but Martin had other words.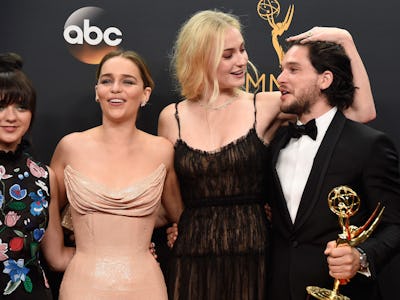 Getty
Game of Thrones is now officially the most decorated show in Emmy history, with as many trophies to its name (38) as there are extras in any given scene. And with that success comes even more speculation about potential spinoffs as the show drives towards its epic ending.
Backstage at the awards ceremony, showrunners David Benioff and D.B. Weiss reiterated what they said earlier, namely that they have no wish to be involved in any potential spinoffs. "For us this is it," they said.
But George R.R. Martin was not as quick to kill the idea as he was to kill direwolves in Season 6. "I do have thousands of pages of fake history of everything that led up to Game of Thrones, so there's a wealth of material there and I'm still writing more," he told The Hollywood Reporter. "But at the moment I still have this show to finish and two books to finish, so that's all speculation for now."
The "wealth of material" Martin refers to is primarily his Dunk & Egg novellas, which take place many years before the War of the Five Kings and follow a nomadic knight and his squire. In the past, Martin has named that the most natural place for an adaptation.
This latest statement is especially promising, because it's suggesting that he doesn't seem to be restricting the spinoffs to just Dunk & Egg. No offense to Martin or Dunk & Egg fans, but the stories, while interesting, are not much of a departure from GoT's typical odd-couple, buddy-cop dynamics. If a spinoff wanted to be new and unique, there is a wealth of material to use, like a spinoff focusing on the Mountain and the Hound's childhood, or a Romse-esque story about the fall of the mysterious Valyria.
With 38 Emmy trophies thus far, there is no chance that HBO will let Game of Thrones go without exploring spinoffs. David Benioff and D.B. Weiss's reluctance to be involved is not a bad thing; there are plenty of fresh and capable voices to helm these side stories. It's not a question of if but rather, when. And regardless of Martin's comments about timing, the television world does not wait. It's quite likely a Game of Thrones spinoff will be on the air before Winds of Winter finally comes.
Man, it's hard to believe that just a year ago, the most rampant Game of Thrones speculation at the Emmys revolved around the fate of Jon Snow. Ah, simpler times.