Who Should Helm the Inevitable 'GoT' Spinoff?
George R.R. Martin is all for it but the current showrunners David Benioff and D.B. Weiss are against it.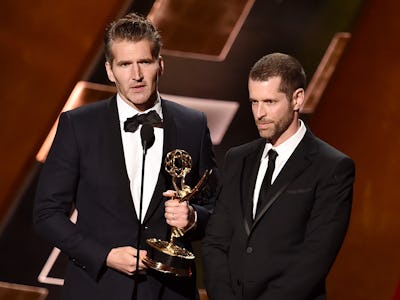 There has been a lot of Game of Thrones spinoff buzz of late, as the show's episode count winds down. George R.R. Martin has already announced that he's all about continuing onscreen stories set in Westeros and Essos. He's singled out his Dunk & Egg novellas for adaptation, even though we had better ideas.
Current Game of Thrones showrunners David Benioff and D.B. Weiss have sworn they're done when it ends. But just because they're not on a spinoff, the show can easily go in with alternate showrunners — and there's no way HBO will let their biggest hit ever rest. They'll resurrect it like they're Melisandre and the show is Jon Snow, and then the spin-off series will gasp and look at the camera, and all of its siblings won't know it died in the first place. This metaphor is falling apart.
Here are some suggestions for HBO Game of Thrones spinoff creators, using the network's own pool of show-runners past.
Terence Winter
Winter most recently helmed Vinyl, then departed over "creative differences." As he's been with the network through Boardwalk Empire and The Sopranos, he'll be looking for new work and for an olive branch from HBO. Having him help the Clegane Boys spinoff or the epic Rome-esque series Valyria would surely leave it in good hands.
Damon Lindelof
If you're still bitter about Lost, forget your preconceived notions of Damon Lindelof. The Leftovers is a gorgeous, strange, and utterly unique show. It's more dystopia than epic fantasy, but like Game of Thrones, Lindelof always grounds oddity with refreshingly natural dialogue. The show is ending after its upcoming third season, so it will free Lindelof up to continue working with HBO in Gendry's rowing adventure or Bronn and Lollys: Portrait of a Marriage.
Daniel Knauf
Carnivale was an odd and epic gem canceled before its time. HBO should give its former showrunner a shot at the atmospheric Valyrian prequel we've planned for them. An alternate could be a show digging into Melisandre's far-reaching past and chronicling how she became a Red Priest.
Alan Ball
Ball formerly helmed Six Feet Under and True Blood — meaning, he's good at quiet emotional beats and batshit insane moments, both of which fit nicely into the Game of Thrones universe. Ball currently helms Banshee, but as its on its final season, he'll be ready for a new project soon.
Nic Pizolatto
Just kidding, he should remain in his time-out in the corner, wearing a dunce hat.