Watch Millie Bobby Brown From 'Stranger Things' Turn Into Eleven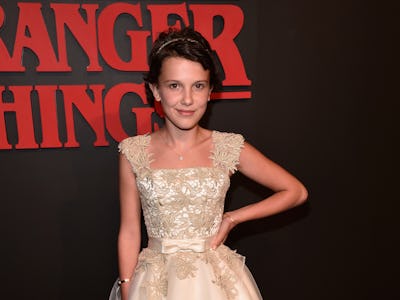 Getty Images / Alberto E. Rodriguez
Besides the hideous faceless monster known as the Demogorgon, tween actress Millie Bobby Brown is probably the breakout star of Netflix's latest hit Stranger Things. While her incredibly subtle but powerful performance as the telekinetic girl named Eleven is probably the reason for that, it's also because of her immediately iconic look. Brown had to make like Mia Farrow in Rosemary's Baby and chop off nearly all her hair to play El, and Brown just tweeted out a time-lapse video of her buzz cut.
Anytime you decide to shave your hair there's a moment of panic, but Brown seems to be all in as the camera rolls and Beyoncé's track "Pretty Hurts" plays over the short clip. Series creators and directors Matt and Ross Duffer even make an appearance to see their creation come to life as Brown first has to endure having huge chunks of her long locks cut off with scissors before the hair clippers come out to finish the job.
The Duffers revealed to Entertainment Weekly that Brown was initially hesitatnt to cut her hair off (as anyone should be) but the duo showed the actress photos of the unbelievably badass Charlize Theron as Furiosa in last year's Mad Max: Fury Road to convince her it would look awesome.
Check out the video below:
At the end of the clip, she even stops to look at the time lapse camera to strike her best El pose, though no crazy telekinetic shenanigans happened and she didn't get a nose bleed.
Stranger Things is currently streaming on Netflix, and while they haven't officially announced Season 2, it's all but inevitable.