Go Inside Joyce Byers's House With 'Stranger Things' VR
Don't get caught by the Demogorgon!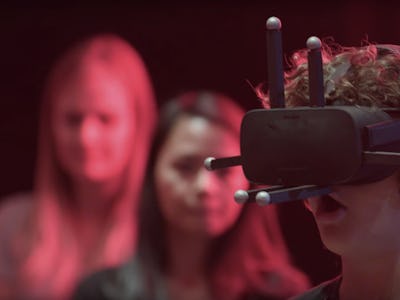 If you ever wanted to find out what it feels like being stalked by an inter-dimensional being in the middle of a house in suburban 1983 Indiana, then Netflix has you covered. In honor of its hit supernatural thriller Stranger Things — which you should drop what you're doing and watch immediately — the streaming service has created its first original virtual reality experience.
The two-minute immersive 360-degree YouTube video, which is best experienced through something like Google Cardboard or a Gear VR, lets you feel like you're right in the middle of the moment in Joyce Byers's house — creepy Christmas lights and all — where she's attacked by the show's monster, the Demogorgon. We don't want to spoil all the surprises, since it's definitely worth checking out yourself even if you don't have a VR device, but we will say it ends with a voice on the telephone saying, "You have to listen! He's here! Turn around! Behind you!"
Check it out below:
"Stranger Things is a uniquely atmospheric series that inspired us to create a fun way to immerse viewers in the rich world, allow them to experience the thrills and mystery of the story and excite them to watch the series," Netflix said in a statement, and it's true.
While it doesn't last very long, the VR clip is a great little teaser for the perfectly spooky scares the show has to offer. If you don't believe it then Netflix also released a video clip of the show's cast getting caught up in the supernatural VR. You'd think that Gaten Matarazzo (Dustin), Caleb McLaughlin (Lucas), Millie Bobby Brown (Eleven), and series creators Matt and Ross Duffer would be used to fending of the Demogorgon from their time with the show, but they still seem pleasantly surprised.
As Ross Duffer says, "That's one of the coolest things I've ever done in my life."