'Mr. Robot' Gets a Third Season of Bizarre Digital Madness
NBCUniversal renewed the show today.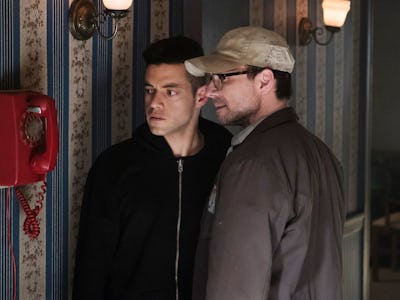 USA Network
It's not over for fsociety – mostly because Mr. Robot is getting a third season. On early Tuesday afternoon, USA Network announced that it would renew its Emmy-winning hacker drama starring Rami Malek and Christian Slater. Creator Sam Esmail's series is currently halfway through its second season; the third will debut sometime 2017.
"We couldn't be more proud of Mr. Robot, a series that has pushed boundaries, captured the cultural zeitgeist, and been honored as one of the best dramas on television," NBCUniversal (the parent company to USA) cable entertainment president Chris McCumber said.. McCumber went on to credit Mr. Robot for allowing the network to begin producing new kinds of shows that wouldn't have been on air just a few years ago. McCumber said Mr. Robot is breaking "new ground" and opening up "new opportunities for the network."
The show has earned critical and popular acclaim for portraying hacktivist culture and actual computer hacking accurately on TV, and quickly built a name for itself as one of peak TV's best and most bizarre shows. Last season's dramatic twist — that Slater's Mr. Robot was a hallucination of Rami Malek's Elliot — enabled the show to go hyper offbeat, and develop episodes like last week's parody of '90s sitcoms.
Mr. Robot airs Wednesdays on the USA Network.