'Mr. Robot' Creator Sam Esmail Was Tired of the 'Cheesy Crap' in Hacking Stories
It's "not cheesy graphics and ones and zeroes flying at you," Esmail told a SXSW crowd.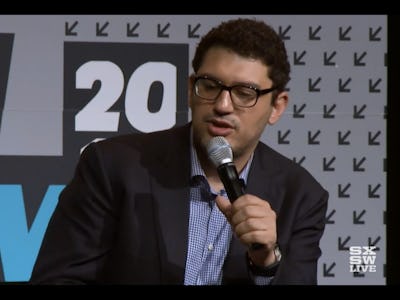 SXSW
It was only a year ago when the techno-thriller Mr. Robot blew the South by South West audience away with compelling characters and a decidedly un-gimmicky approach to portraying computer hacking.
"I wanted to tell a story about hacking … and I was watching all this cheesy crap. They're not great at representing what that world looks like, and what hacking looks like, which is not cheesy graphics and ones and zeroes flying at you," Esmail said during a panel discussion today. Esmail described familiarizing himself with the technology world by reading blog in order to figure out "what was plausible and what wasn't."
Esmail and stars Rami Malek (Elliot) and Christian Slater (Mr. Robot) fielded questions from the audience about the show's chaotic first season and looming second season, which will tackle encryption and privacy with the mechanizations of its main plot.
The slight thematic shift won't lead to a substantive change in the way the film is shot, which remains singlue. Hacking stays authentic in Mr. Robot because the actors aren't pretending to input commands on computers. "Everyone who shoots computer screens, it's always a green screen because they're not seeing what they're typing," Esmail told the crowd. "On top of that, they're putting bullshit on the screen so it doesn't make sense anyway. This is actual real code vetted by our tech consultants, and Rami you actually have to type it."
The show employs FBI cyber crime experts as consultants and Esmail's former assistant, now a writer, worked in cybersecurity.
"My production designer hates me because we create all these screens that at the end of the day we only see a few seconds of," adds Esmail. "When you make a show about anything, when you do the groundwork it just starts to feel credible … all the stuff around it starts to contextualize it. We're getting plots from actual stories [experts have] been sharing. All of that adds to the credibility."
Speaking as an actor, it's all been a challenge for Malek. "I'm used to just knowing my character and my lines down," he said. "But I have to come in a little early [to understand] the graphics and animation."
"I always tried to humanize him," Malek added. "I remember staring at Angela's Facebook, [Elliot] wishing he had that life, and it got me sad. But it was easy to connect to that aspect of him. We can all relate to that loneliness and being distanced by technology, and these manicured Facebook pages we create."
Esmail hopes Mr. Robot can do more than just entertain, too. As the show tackles the feud between Apple and the FBI over the San Bernardino shooter's locked iPhone, Esmail hopes Mr. Robot can help inform people confused by the news. "I don't think people understand the nuance of the debate between Apple and the FBI, and if our show brings up that conversation it's going to get people to join the debate."