How 'Mr. Robot' Made USA Network Change Its Style
Elliot hacked his way to the top, and USA thanks him for it.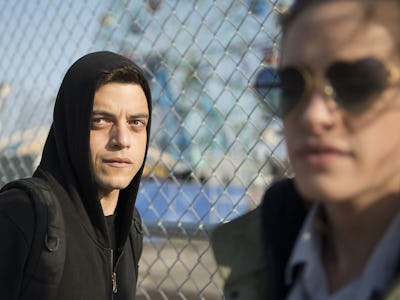 USA Network
Last summer's Mr. Robot was a breakout hit for NBC and its USA Network. The dramatic thriller about a vigilante computer hacker swept up in a revolution won acclaim and a handful of awards, including Best TV Drama at the Golden Globes. In an article from Deadline outlining the consolidation of NBC Universal's cable networks, Mr. Robot was credited for single-handedly changing the type of shows USA looks for, meaning the once-saccharine network could be the next cable TV powerhouse.
"We wanted to take a beat to see where the world is going," NBCUniversal Cable Entertainment chairman Bonnie Hammer told Deadline. "No matter what happens, what platforms emerge, smart content wins."
The article then cited a paraphrased statement from Hammer, where she credits Mr. Robot as the door-opener to more daring types of shows that USA and sister network Syfy will look into.
"The consolidation further made sense as USA moved away from its original blue-sky, frothy brand of scripted programming to edgier fare, illustrated by breakout hit and Golden Globe winner, Mr. Robot. Because of the shift, now a drama project could practically go on either network, USA or Syfy."
After years of mid-range and off-brand programming, Syfy changed gears and became true to its name, leaning hard into high science-fiction through shows like The Expanse, The Magicians, Childhood's End, and Z-Nation. Because of Mr. Robot, USA is also in the middle of a shift with original shows like the sci-fi drama Colony.
Typical USA Network shows used to involve attractive hotshots with hearts of gold, but now USA's sunny skies have gotten a little gray, just like their new characters' morals.
Mr. Robot Season 2 will premiere later this summer.