John Williams Will Start Work on 'Star Wars: Episode VIII' Soon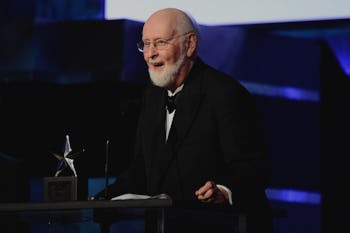 Getty Images / Frazer Harrison
The maestro himself is returning. Legendary composer John Williams confirmed at a concert in Boston that he will begin composing the score for Star Wars: Episode VIII in a few weeks.
Fresh from receiving his AFI Lifetime Achievement Award, Williams played a concert on Saturday night and covered memorable classic scores from his career, including E.T., Hook, and Superman*. But to Star Wars lovers, Williams is synonymous with the soaring music that paint a picture of that galaxy far, far away. The soundtracks he has composed for the seven episodes are regarded as among the greatest of all time.
Masslive reports that Williams was persuaded to return after watching Daisey Ridley's performance as Rey in an early cut of Episode VIII. Lucasfilm producer Kathleen Kennedy invited Williams back, and he accepted; he didn't want another composer to create the music for Ridley's scenes.
Ridley has been mentioned as Williams's key favorite before: In June, he told Variety that if he could do Episode VIII, he would. "I told Kathy Kennedy I'm happy to do it, but the real reason is, I didn't want anybody else writing music for Daisy Ridley," he said.
Unfortunately, all hopes that Williams may drop some hints about what's to come were quickly dashed. Williams told the crowd that he does not know yet who Rey's parents are. Rey's family tree is one of the great mysteries keeping fans busy, and while J.J. Abrams may have accidentally let a fact slip at an April press conference, all we really have is fan theories and self-published YouTube videos.
For Williams's next entry, it's not unimaginable that he'll create something similar to The Force Awakens. That score moved away from reams of memorable tunes, shifting to small snippets that evoke mood. It's a common theme in recent films, and although Williams is an industry veteran, he's not afraid of changing with the times.