John Williams Receives AFI Lifetime Achievement Award; Highlights From the Evening
Tonight's ceremony honored composer John Williams, who has scored some of the most iconic film soundtracks of all time.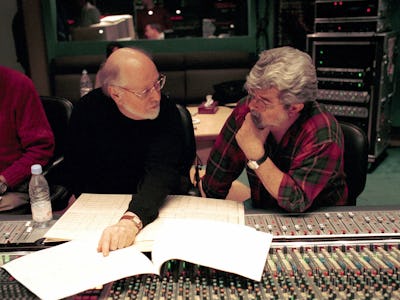 Jonathan Player / For The Times
If statistics were available, it's a pretty safe bet that at least 4 out of every 5 people on this planet have heard a song composed by John Williams. Tonight at the Dolby Theater in Hollywood, Williams became the 44th recipient of the award, and the first composer to receive it in the history of the American Film Institute's prestigious ceremony. Williams' work includes staple blockbusters and franchises, including all of the Star Wars saga, E.T., JAWS, and the Harry Potter films — just to name a few.
The red carpet glittered with huge personalities from both the film and music industries: wildfire maestro Gustavo Dudamel, who collaborated with Williams on the Star Wars: The Force Awakens soundtrack walked the carpet nearby Harrison Ford, J.J. Abrams, Steven Spielberg, Kathleen Kennedy, and several other iconic names. In a way, it was almost mind-blowing that Williams hadn't already won the award: he already has his fair share of BAFTAs, Golden Globes, Emmys, Grammys, and five Oscars (along with almost as many nominations as the decades his a career has spanned).
Press and celebrities alike were live-tweeting the event from the event, as fans of all ages shared their sentiments about the legendary composer:
EW's Anthony Breznican shared a photo that looks like the film industry's Last Supper:
So do we all, QueenB.
At 84 years old, Williams is still looking forward to scoring the upcoming installments of the Star Wars saga, and told Variety ahead of tonight's ceremony that he wouldn't let anyone else write music for Daisy Ridley (in relation to Steven Spielberg's upcoming film adaptation, Ready Player One). One might have to agree, given that Rey's Theme is easily one of the best tracks from The Force Awakens' incredible soundtrack.
Williams remained ever humble, and explained in his interview that the process for him has always held the same tune. "In the initial stage of writing any of these things, one never imagines that they will be popular or even be around a week after they're done," said Williams. "Everything was written in the service of some film function. That's as far as my creative thinking would have gone. You never write a theme for a movie thinking, 'this will live forever.'"
Over the course of the night, Williams was rightly praised as the "single finest musician today" by Seth MacFarlane, and "the sweetest superhero of all time" by J.J. Abrams. If you're eager to hear new music from the composer, Williams' music will back Disney's on-screen adaptation of The BFG., which opens in theaters on July 1st.