Hey Guys, Tech Reviewer Jonathan Morrison Has Sold Out
It appears that his "crispy" voice is for sale.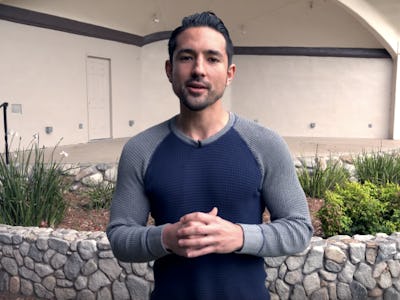 Jonathan Morrison / YouTube
Jonathan Morrison, the self-described "tech reviewer" behind the popular YouTube channel tld, voices two new promo videos for Samsung's Galaxy Note 7.
He offers a variation on his trademark sign-on — "Hey guys, Jonathan here" — in one of the videos about the smartphone's "unboxing & design" uploaded Sunday by Samsung. A video uploaded Monday about the device's stylus, the S-Pen, has no such greeting, and neither identify him as a tech reviewer, but offer his recognizable "crispy" voice. And below the unboxing video, Morrison smugly offers, "That voice sounds familiar."
Morrison can claim more than 1.3 million subscribers and nearly 192 million views, and his channel is a sought-out destination for gadget reviews, tips, and buying guides.
We tried to get in touch with Morrison about his Samsung role a variety of different ways — a tech star is nothing if not accessible — and will update when we hear back. We also tried asking Samsung's mobile phones and wireless products division about the promo videos, but have not received a response.
His influence in the realm of technology spreads far, but the big question about his voiceovers isn't one about the technology, it's about the potential for bias. For instance: How can a reviewer be fair about any product if he's doing commercials for another? Would the late Roger Ebert allow himself to review Suicide Squad if he did a commercial for a different DC movie? (The answer is "Oh, Hell no.")
Making money off a YouTube channel is hard. It's time-consuming, and without a real incentive program, payouts from YouTube offer far from full-time pay, unless you rise above the noise and hit elite numbers of views and subscribers. Sponsored content and selling a host's star power (like what Morrison is doing for Samsung) is a more viable option.
Meanwhile, Morrison's fans seem to love it: "Jonathan Morrison is [on] Fire!!!!," writes one. "Wow! What a gig! Hahaha. Congrats man," writes another. Others, like Rogério Soares, wonder if this was such a good idea: "You said what Samsung wanted to say, but what do you really [think] about this phone? Make a video about that please."
His own tld channel's description reads: "The latest Apple/Mac/Consumer Tech Reviews, Unboxings & Giveaways." It's the word "reviews" that regulators may have trouble with. Take the recent case of Youtube user PewPewDie, an "online influencer" in the world of video games, who was involved in a Federal Trade Commission investigation into Warner Bros., maker of the game Middle-earth: Shadow of Mordor. The WB, through an advertising agency, paid tens of thousands of dollars and told PewPewDie exactly how to present the games, including ignoring any bugs or glitches they came across. "Consumers have the right to know if reviewers are providing their own opinions or paid sales pitches," the FTC writes of that case.
While it appears that Morrison and Samsung have taken steps to avoid those situations that have gotten other YouTube personalities in hot water — he's appearing on the Samsung YouTube channel and doing what's clearly a promotion — it might be hard for some to take his future reviews at face value.
In the past year, Morrison has reviewed iPhone or iPhone-related products 30 times and Galaxy and Galaxy-related products just 10 times. Observed one commenter beneath a video on the S-Pen: "Iphone fanboy doing one of the best android phone review.. So bad.. ." It does seem that Samsung is taking the direct route by using Morrison's famous "#crispy" voice to talk about its new phone.
These videos aren't the first time Morrison has worked directly with Samsung. In June 2015, he was commissioned for an ad that has since been made private — but could be any one of the company's notoriously bad ads.
The lines between sponsored content and unbiased content are blurring everywhere, not just from YouTube reviewers and so-called "influencers." It's important to know which content belongs in which category, however, if you expect to ever see an honest review.
Here's the video uploaded by Samsung on Sunday that uses Morrison:
And here's the video uploaded on Monday that uses Morrison: