Advice for Would-Be Vloggers From People Who Know What's Up
The digital superstars discuss their new doc. 'Vlogumentary' and dole out advice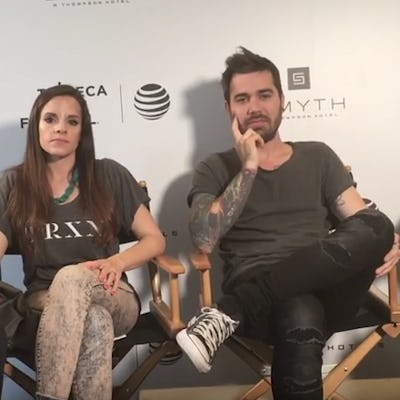 It's hard to define exactly what it is that Charles Trippy, Shay Carl Butler, and Colette Butler do for a living. They're pioneering vloggers, sure, but they're also business people, brand managers, celebrities, entertainers, futurists, and experiments of their own making.
Both the Butlers and Trippy were early adapters of YouTube, back when it was mostly cat videos and pirated TV clips (which, well, still abound on the site). The Butlers, who have grown to be a family of five, are better known as the Shaytards, after an early video of Carl Shay wearing one of Colette's old unitards went viral. Their channel is a massive trove of family videos, documenting everything from mundane chores to the birth of children, cross-country moves, business success (as co-founders of Maker Studios) and visits to the White House. Trippy, under the username CTFxC, has posted a video every single day since he began in 2006, chronicling both the good — engagements, musical success – and the bad, brain surgery and divorce.
Their rise to success is captured in director Matthew Testa's new documentary Vlogumentary, which debuted at the Tribeca Film Festival. Joined by newer YouTube star Mikey Murphy, the Butlers, Trippy, and Testa spoke with Inverse about their journey — and gave some tips to aspiring YouTubers about how they can stick out on the ever-cluttered platform.
Have realistic expectations
YouTube is now over a decade old, and has become one of the world's most-visited websites. It's no longer so easy to stand out, in the same way that it became difficult to make a name for yourself in other entertainment industries as they matured.
"It's like if you were in the 1920s, the silent film era, there wasn't a crazy amount of actors," Murphy, who started three years ago, said. "Now there are thousands and thousands of actors. The market just got bigger."
Shay Carl, who sold Maker Studios to Disney, says that wisdom comes with experience.
"If you start now to try to make money on this, you're competing with the Walt Disney Corporation, major networks, and guys who have been doing it for ten years every single day," Butler said. "It's hard for me to sit down and say 'Here's how to do YouTube.' It's knowledge that we gained from years of clicking and typing and being in the space."
Find hardcore fans
The good news is that you don't have to rise to the very top to be successful, given how active and engaged both fans and sponsors are right now.
"If you think about being an artist or a creator, if you could just get 1000 people who are willing to give you $100 a month, whether it's buying your merch, buying your tickets, supporting you on Patreon," Butler said. "That's $100,000 you can make as an artist. You don't need a million subscribers. You can do this for a living. You may not be super famous, but you can do this for a living, making things you think is cool."
Adds Trippy, who has opened up his life to fans more than almost anyone: "You need that dedicated following."
"We didn't start this for money," Colette explained. "One of the main reasons we all started was to create and connect and have a voice somewhere in this new space. If you start that way and put yourself out there in a way that you're proud of and happy about, you're going to grow."
Work really, really hard
It helped that the Butlers were, as they say, dead broke at the time that they began vlogging; they didn't have anything to lose.
"People don't realize, you are working your butt off all the time," Shay Carl said. "You have to eat, sleep and breathe this."
Get on live-streaming
The next big thing, they said, is live-streaming videos, instead of editing clips together.
"As the internet speeds up, the ability to transcend geographical boundaries and hang out with each other in real time is going to change everything," Shay Carl predicted, noting that virtual reality and 360 video will also have a huge impact and provide new opportunities for vloggers.
Now, watch the whole interview below: