Lucasfilm Officially Adds New Screenwriter After 'Rogue One' Reshoots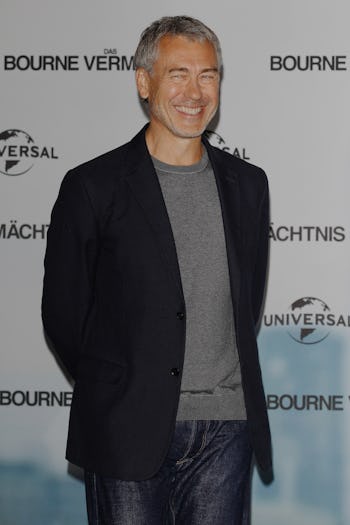 Getty Images / Andreas Rentz
You may have noticed something after watching the newest Rogue One trailer that debuted during the Olympics. We're not talking about that millisecond-long peek at old school bad guy Darth Vader or the updated action of the kickass behind-enemy-lines mission headed by actress Felicity Jones as valiant misfit Jyn Erso. That stuff was well-known before the clip aired, but what we didn't know is that Rogue One just officially got a new member of the crew: screenwriter Tony Gilroy.
Though it isn't in the YouTube version of the trailer, eagle-eyed TV viewers noticed that the credits that followed the new footage included Gilroy's name as a credited screenwriter alongside Chris Weitz. The movie has most recently gone through some controversial reshoots that sources have said is either a complete retooling of the movie or just a few small touch-ups to sculpt the first standalone Star Wars movie into the best it can be.
Take a look at a screenshot of the credits below:
In June it was reported that Gilroy was brought in to give simple notes for the reshoots after helping out with early drafts of the screenplay, and then news broke that he may even be taking over the movie altogether from director Gareth Edwards. While the extent of Gilroy's control over the reshoots is still unresolved, the screenwriting credit means his work was significant enough for the Writers Guild of America to officially recognize his work.
This is the period at the end of a very long run-on sentence in the saga of the Rogue One screenwriters. Book of Eli scribe Gary Whitta was the first screenwriter brought on in 2014, but after submitting a first draft he was replaced by Weitz. Mission: Impossible - Rogue Nation director Christopher McQuarrie even supposedly did a pass on the script, but still doesn't have an official credit. Whitta, however, still has a "Story By" credit on Rogue One with Lucasfilm's John Knoll, whose idea about who stole the Death Star plans kicked off the standalone series.
The news shouldn't be so major – since huge blockbusters often need reshoots and rewrites – but it's notable, considering Edwards and Lucasfilm president Kathleen Kennedy asked fans to calm down about reshoots earlier this year. There was enough added there to give Gilroy his due, but all of this probably won't matter much if Rogue One turns out to be a rousing success.
Edwards's (and Gilroy's) movie hits theaters on December 16.