The iPad Mini Won't Change Much With iOS 10, and That's Good
It gets all the benefits with few of the drawbacks.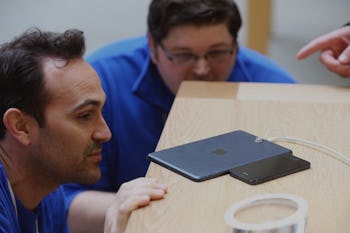 Getty Images / Oli Scarff
It won't be long before Apple releases iOS 10 to the public. Millions of people will download and explore the new operating system on their iPhones, iPads, and iPad Pros. But what about those of us who are still using the iPad mini?
There's no denying that the iPad mini doesn't get a lot of love from daddy Apple. The iPhone has gotten steadily larger over time, and the iPad product line has expanded to include ever-bigger devices like the iPad Pro. Yet the iPad mini is still cheap, portable, and good enough to hold on to for another couple of years — but how does it handle iOS 10?
It's worth noting that in most circumstances, you shouldn't install the iOS 10 beta, which has a number of maddening features, on any device, let alone a mostly-forgotten piece of Apple history. But we did it anyway, just to see what would happen.
The answer: It's not much different from before, and that's a very good thing.
The update to iOS 10 will bring many changes for iPad Pro owners to navigate. Yet the changes on the iPad mini are mostly cosmetic and, aside from a few nit-picky things, welcome.
Many of the best things about iOS 10 on the iPhone also apply to the iPad mini. Apps like News and Music have gotten facelifts, notifications are improved, and Maps — if you're the kind of person who uses navigation apps on a tablet — is much better.
Perhaps the most notable addition is Swift Playgrounds, a neat little app that promises to teach people how to code. It's basically a game that's controlled with code, and it works pretty well. To someone who's tried and failed to at least dabble in programming several times, Swift Playgrounds might be the solution.
Other changes aren't as frustrating on the iPad mini as they are on the iPhone. I don't have to switch the iPad between different volume levels quite as often as I do on the iPhone, for instance, so the weird split in Control Center that adds an extra step to interacting with music or videos doesn't bug me nearly as much.
There's also more room on-screen for different user interface elements. This means that instead of burying shuffle and repeat features in non-intuitive "cards" within the Music app, the "shuffle all" button is just right there, waiting to be hit. (That's true in both landscape and portrait mode so the button's easily noticed.)
Really, the biggest frustration with using an iPad mini with iOS 10 installed is the change to unlocking the device. It makes more sense on the iPhone, where hitting the home button twice will often activate Touch ID and unlock the device, but on earlier models of the iPad mini, it's just a weird change to an ingrained process.
Besides that, much of the experience is the same. Netflix streams movies, Music plays songs, and it's still easy to browse the web or play some games. That's a good thing. It's nice to get some of the benefits of iOS 10 — better performance, a more vibrant design — without dealing with a whole bunch of bells and whistles.
People often wonder if they should install the latest operating system on an older device. I have an older iPad mini (the first with the Retina Display) and iOS 10 runs great. So if you're looking to squeeze just a little more time out of Apple's cheap, well-made, redheaded stepchild of a tablet, giving iOS 10 a shot is the way to go.