5 Cool Things About the iOS 10 Beta
I'll admit that the iOS 10 public beta has some nifty features.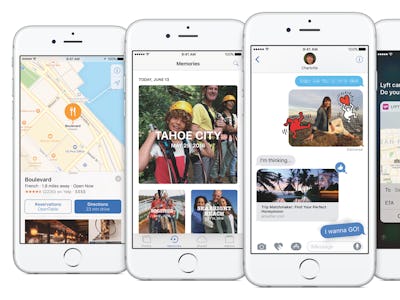 Apple
I had no intention of downloading the iOS 10 public beta.
In fact, I said no one should use betas of operating system updates unless they make a living in the App Store. It turns out that the best way to be forced into downloading something you don't want to install on your phone is to write about it.
But I have to say that there are some neat features coming in iOS 10 that I think people are going to like. Here are the five coolest things about the iOS 10 public beta that I found in my unwilling tour of Apple's next mobile operating system.
5. Apple News is much prettier than before
Apple News has received a facelift. The app was previously relegated to my third homescreen, an abandoned place where apps that I have to have on my phone but never want to use are sent to be all-but-forgotten. But the new design has me intrigued. Articles are prettier, the app seems to load faster, and the icon is much improved. I'm not sure I'll use Apple News for long — I prefer to use my phone to catch up on stories with Instapaper or find cool articles via Reddit — but for now the redesign has gone a long way to make the app a contender for my attention.
One strange thing is Apple News' insistence on showing the "Sports" category right underneath its top news. My interest in sports begins and ends with Calvinball — I have no desire to read about game results, athletes, or whatever controversy in which some organized league has found itself embroiled. If there's some option to remove this category I must be entirely too dumb to find it.
4. Notifications are less of a hassle
I hate it when my phone alerts me of something. Call it an irrational fear of interruptions, call it social anxiety, either way, it's never all that fun. I have to leave notifications on for my job, though, and most of the alerts I receive need some kind of action. Emails require a response, text messages have to be expanded, and to-dos have to be marked as completed. The notification update in iOS 10 makes it easier to perform those actions without unlocking my iPhone.
One weird little issue: If I interact with a message in any way, but don't view it within the main Messages app, my iPhone will send a second empty notification that makes my phone buzz and my screen light up without displaying any useful information. I doubt this will be a problem as iOS 10 continues to change, but right now it makes me check my phone far more often than I should have to.
3. Lock screen controls are easier to use
I often listen to something — podcasts, music, the chime of Pokémon GO — while I'm walking. The old lock screen controls were hard to hit; they were so small that it was hard to use them while the phone bobbed up and down with my stride. The new controls are much bigger, which means that adjusting the volume or rewinding to catch something I missed is no longer a lesson in frustration.
I do wish that Apple hadn't moved around the playback options in Control Center (the utilities pane that appears when you slide your finger up from beneath the iPhone's display) to a side view. I often find myself changing volume before I play a video or start listening to music and the extra swipe is a bit of a pain in the ass. I also hope that Apple doesn't think improving on-screen controls is an excuse to nix the mute button from the iPhone with the iPhone 7.
2. Apple Maps is finally a real contender. Really!
When I last tried to use Apple Maps to drive to a concert in Buffalo, New York, it ended up putting me about two miles away from where I needed to be. It also took forever to find the right address. Between those two issues, I decided it was best to continue using Google Maps, concerns about the privacy implications of sharing my location with that company not withstanding. With iOS 10, Apple Maps loads much quicker, finds more locations, and seems to be more accurate.
That isn't to say that it's perfect. When I tried to browse through recommended businesses I was directed to popular locations in Buffalo, Manhattan, and other cities that require several hours of driving to visit. There are plenty of excellent places to grab a drink in the Finger Lakes; why wouldn't Apple Maps show them to me? For now, I'll have to let that particular feature find itself before I use it.
1. It's fun to bug people with new iMessage features.
One of the biggest changes coming in iOS 10 is an update to Messages that makes it more like Facebook Messenger, WhatsApp, and other services. You'll be able to use the app to send giant emojis, scribble drawings to your significant others, and use invisible ink to hide a message until the recipient interacts with it. Some of these are fun to play with.
I suspect, though, that this is because I can send these messages to other people but they can't send them back to me. I don't want to receive messages that change my background, have stamps, or feature ugly stickers. The best part about using the iOS 10 public beta is that I can play with those features without being on the receiving end. That probably isn't going to be tenable in the long term.
In closing:
The iOS 10 public beta is fun but flawed. I've noticed that some actions, like opening a folder, are slower than they were before. Siri is a little bit dumber. My phone hasn't woken up when I've picked it up once. One of my most-used apps (a task management tool) has failed to download since I installed the iOS 10 beta. None of these issues are deal-breakers, but they do support my point that you shouldn't download the public beta and should instead wait for a stable release.
And, for what it's worth, Apple agrees:
Now if you'll excuse me, I'm going to write something about how editors shouldn't buy their writers all-expenses-paid trips to Hawaii. Fingers crossed!