Americans' Obsession With Guac Is Ruining Mexico's Forests
You should keep eating them, anyway.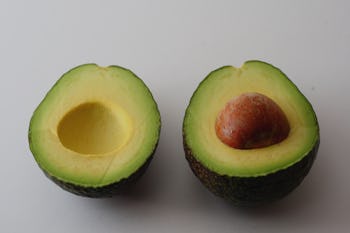 Alan Sheffield / Flickr
The avocado, arguably nature's most perfect fruit, has a new blemish on its reputation.
American demand is driving deforestation in Mexico and pushing farmers into reserve lands set aside for migrating monarch butterflies. An official with the country's forestry department told the Associated Press that people are sneaking into protected forests, planting avocado trees, and slowly peeling back the canopy above to make way for the valuable crop. It's not just a problem for the butterflies, since avocado plantations take up twice as much water as the native evergreen forests, which could affect communities and environments downstream.
In July, police detained 13 people in connection with a 12-acre plot where 350 trees were cut down to make room 1,320 avocado trees, the AP reports. That many avocado trees could one day generate half a million dollars in revenue annually, though the plants take seven years to reach maturity. A government report pegged the annual deforestation rate from avocado encroachment at 1,700 acres annually.
"More than anything else, it is economic pressure," avocado researcher Ignacio Vidales said. "They have seen that planting avocados is more profitable than planting corn, or other crops, or even the forest."
This news is disconcerting to guacamole lovers everywhere, but perhaps it's not yet time to declare avocados the ethically dubious food-du-jour. Illegal deforestation is certainly a problem, but the solution to that problem is not ending trade in legal, delicious avocados.
Before the North American Free Trade Agreement came into force in 1994, all of America's avocados were grown in California and Florida, which explains why you don't remember eating them as a kid. NAFTA prevents the U.S. government from giving preferential treatment to local produce, and in 1997 Mexico started selling to American consumers.
The growth from that small start has been astounding. In 2014, 1.8 billion pounds of avocados were trucked across the border, representing 60 percent of the U.S. market. And, for the most part, that's a good thing. It's good for consumers, who get a year-round supply of the most amazing thing Mother Nature ever invented; it's good for Mexican farmers, who get a reliable, legal, way to make an income for their families; and it's good for economies on both sides of the border.
So the next time Donald Trump threatens that in addition to his physical wall, he wants to dismantle NAFTA by building a trade wall with Mexico, remember that he's coming for your avocados, and if he gets his way, it will cost a lot more than two bucks to add guacamole to your Chipotle burrito.