This Google TV Commercial Hits Apple's iPhone Where It Hurts
Ow, right in the internals!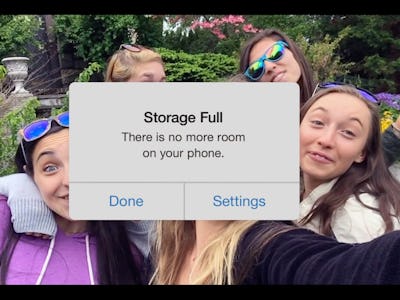 Google Photos/YouTube
Storage envy? Google knows how you feel. The Android maker has released a new ad lambasting Apple's paltry 16GB storage space on the base model iPhone.
The ad features several memorable moments, ruined by a dreaded iOS-looking error message telling the user that it needs to go delete some precious photos before they can take any more.
Google's solution works on both Android and iPhone. The Photos app offers free unlimited storage of snaps (with some restrictions), with the option of deleting them from the phone's offline storage and keeping them tied to your Google account.
There is a catch: photos must be less than 16 megapixels to be eligible for free storage. For videos, they must be 1080p or less. That last one may be an issue for owners of more recent devices: the iPhone 6s can shoot movies at 4K resolution, which many will want to take advantage of.
Google is not the only company that offers cloud-based photo backups, but its free tier is rather unique. One of its closest competitors is Amazon Prime Photos, which offers free unlimited storage (minus Google's pesky restrictions) for Prime subscribers. Apple's own iCloud storage starts at a 5GB free tier, shooting up to 50GB for those willing to pay $0.99 a month. The top tier is 1TB at $9.99 a month, an option that is neither free nor unlimited.
Hopefully the ad will be a wake-up call for Apple to raise its base storage limits in the next iPhone, but nothing's confirmed as of yet. The company made a minor adjustment in 2014 when it released the iPhone 6. The base storage model was the same, but higher tiers doubled in space, so for $100 more, iPhone buyers could quadruple their storage to 64GB.
If the next iPhone boosts the base storage — the 16GB is a tier the company has maintained since the fourth version was introduced in 2010 — it could be one of the highlight features. Current rumors point to the iPhone 7 being a rather lackluster release, one that will remove the headphone jack and improve the home button.
Failing a boost in base storage, maybe Apple could come back with a criticism ad of its own. It could do one about why Android N isn't very good, or how Google's services put privacy advocates on red alert. Anything to detract from the fact that, painful as it may be for budget-conscious Apple fans to admit, Google does kind of have a point here.