Android N Is Good for Tablets, but It's Not the Answer for Beating Apple and Microsoft
The developer's kit is giving users new multitasking features, but is it enough to take on the iPad's dominance?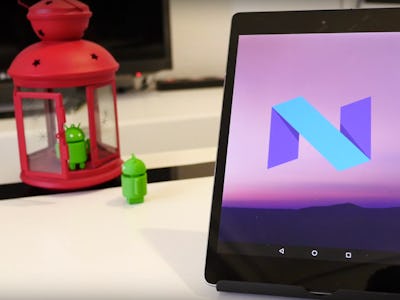 YouTube 
The tablet should be a multimedia gadget for streaming Netflix, as well as a go-to powerhouse for grunt work while on the road. Yet, Android tablets accomplish neither. But maybe Android N, the next software iteration of Google's mobile platform, will change that.
While tablets that run Google's operating system outsold Apple's iPad in 2015, Android tablets are fragmented among many manufacturers, and the top maker, Samsung, sold 16 million units fewer than Apple, according to data from the International Data Corporation. Take out Samsung, and Apple sold more tablets in 2015 than Amazon, Lenovo, and Huawei (a leading Chinese manufacturer) combined.
Android manufacturers have a ways to go if they want to catch up to Apple, but the timing couldn't be better to strike. Tablet sales are down 13.7 percent from the prior year, largely because consumers don't upgrade their tablets as often as phones, due to a relative lack of innovation, a longer life-cycle on tablets and the popularity of big phones.
There are signs from the Android N developer's kit that suggest Google is focusing more on big phones and tablets and that this could be a moment the company looks to strike at those consumers who haven't yet upgraded their devices.
The software features a bunch of small changes, but when talking about bigger screens it's important to focus on two: split screen multitasking and double tap to switch apps.
Both of these features are going to make it a lot easier to do laptop-esque tasks on a large touch screen. You'll be able to read your email while keeping an eye on Twitter, look up directions to a restaurant while perusing its menu, or watch a video and stay active on social media all at the same time. The double tap feature also lets users quickly and seamlessly switch between two apps, which will instantly be a new favorite feature for those who do a lot of copy and pasting from one page to another.
These may seem minor but they address key issues that users have long griped about when considering Android tablets for work. Of course, since Android is only merely catching up to Apple's iPad Pro and Microsoft's Surface Pro here, the question will be: why would the gadget breed?
Case in point: Despite adding a pretty nifty keyboard peripheral to last year's Nexus 9, Google wasn't able to put dents in the Microsoft-leading keyboarded tablet market. This suggests Google's tablet problems go beyond hardware and maybe even features, and instead points to an issue that's been plaguing this tablet platform since its inception — third-party app support.
It's not as if Google hasn't tried to gain ground in this weak spot. The Google Play store disadvantages apps that aren't optimized for tablets as well as phones. But, that hasn't been enough to spur developers to create specifically for these devices as they do on Apple's App Store.
Further, Nexus 9 users who have tried out the developer kit are still complaining about lag from the device, often saying it performed worst after completing the update.
There are rumors of a new Nexus 7 and 10 tablets set for release early this year, possibly in tandem with the release of Android N. So maybe that will give us a more complete picture of how Google plans to tackle the tablet market with their operating system, but unless the company is holding a lot back from the developer preview, it's not likely to shake things up as dramatically as Microsoft's Surface currently is.