The New Trailer for Syfy's 'Incorporated' Promises an Edgy Future
Part 'Mr. Robot' part Philip K. Dick, the Ben Affleck and Matt Damon produced show promises a new era for Syfy.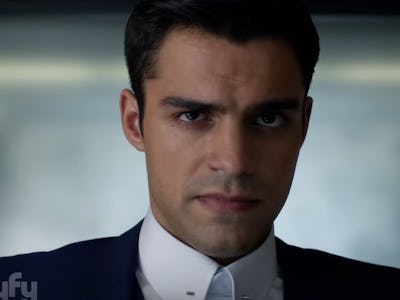 Syfy/ Youtube 
Syfy's intriguing new show Incorporated imagines a near future where bureaucracy reigns supreme and corporations hold all the power (even more than they already do today). Here is the official synopsis:
"Incorporated centers around Ben Larson, a young executive who risks everything to infiltrate the all-controlling corporate world and save the woman he loves. In the process, he will take on the entire system — with deadly consequences."
Judging from the trailer, it will be uncanny and intriguing as hell. Also, the guy playing Ben Larson (Sean Teale) vaguely resembles Oscar Isaac. Equal parts Mr. Robot and V For Vendetta in its fight-the-system story and slick aesthetics, The Adjustment Bureau in its marriage of sci-fi and idealistic romance, the underrated Thirteenth Floor in tone, and every Philip K. Dick story you've ever read, it announces the arrival of a provocative fall show. It doesn't hurt that its executive producers are Ben Affleck and Matt Damon — how do you like them apples?
It will be helmed by showrunner Ted Humphrey (The Good Wife), and in addition to Sean Teale (Skins), it will star Julia Ormond (Mad Men) and Dennis Haysbert, who is finally getting more interesting material than sagely offering advice on car insurance. Syfy might not have been known for the aesthetic of its shows in the past, but between Twelve Monkeys and Wynonna Earp, it has rapidly become cooler and more relevant, and all signs points to Incorporated continuing its rise.
Between Incorporated and HBO's Westworld, fall will be the season of nightmarish, but provocative and deliciously rendered futures gone wrong.
Incorporated premieres on November 30 on Syfy.