'Guardians of the Galaxy' Mission: BREAKOUT! Coming to Disneyland
The Marvel ride will replace the Tower of Terror at Disney California Adventure Park.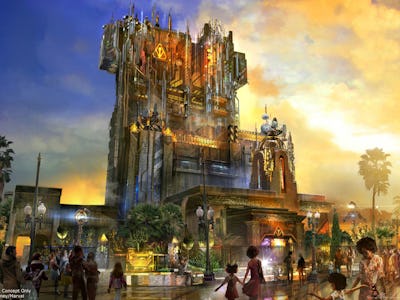 Disney, Marvel
In the first step towards the inevitable Marvel/Star Wars makeover for Disneyland, Kevin Feige confirmed that Disney California Adventure's Tower of Terror ride will be rethemed as "Guardians of the Galaxy - Mission: BREAKOUT!"
The rumor that the Tower of Terror would become Marveled began circulating earlier this year before being confirmed at this year's San Diego Comic-Con. The ride is set to open in the summer of 2017, coinciding with Guardians of the Galaxy Vol. 2's May 5, 2017 release date. Marvel and Disney released a video where Disney "Imagineer" Joe Rohde walks viewers through the development of the ride, which scenes inspired various aspects of the attraction, and how James Gunn and Kevin Feige are involved with the project.
The story behind the ride apparently is that The Collector (played by Benicio Del Toro in the Marvel Cinematic Universe) has imprisoned the Guardians of the Galaxy in his collection room, as seen in the films. It's up to the audience to assist Rocket as they try and break out of the Collector's trophy room, leading to a rocket chase as simulated by the up-and-down motion of the ride.
The original Tower of Terror is a drop ride themed after The Twilight Zone. Park attendees line up and go through a recreated 1920s Hollywood hotel before strapping themselves into an old vintage elevator. As the famous narration before any Twilight Zone episode begins playing, riders are lifted up to the top floor before being dropped.
Concept art of the upcoming Marvel ride indicates that this Hollywood lobby will be transformed into the Collector's trophy room, and park goers can view weird oddities from across the Marvel universe as collected by The Collector.