Marvel Reorganizes, Gives Kevin Feige More (Super)Power
Prez Feige will now report directly to head of Disney.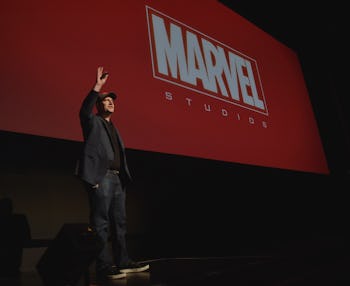 Getty Images
The next Marvel film to hit movie screens next year will be the Captain America sequel, Civil War, but it looks like Marvel has had a little civil war of its own behind the cameras. A Hollywood Reporter exclusive has detailed a shake-up at the highest ranks of Marvel executives, which has now put Marvel Studios president Kevin Feige directly behind Disney studio chief Alan Horn.
Feige had previously reported to infamously difficult Marvel Entertainment CEO Isaac "Ike" Perlmutter, whom sources in The Hollywood Reporter piece say caused Feige "years of frustration." Feige reportedly requested the reorganization to Disney CEO Bob Iger earlier in the year, and the reshuffling of the top brass was initiated last week.
Feige has been the key architect of the wildly popular (and lucrative) Marvel Cinematic Universe, which, since Feige took the reins in 2009 with the first Iron Man movie, has tallied more than $7 billion in grosses at the box office. After overseeing the releases of Avengers: Age of Ultron and Ant-Man this past summer, Feige and the MCU have films slated until 2019 with announcements of new potential franchises coming seemingly any day. Compare that to Warner Bros.' fledgling and scattershot DC superhero universe and Feige's influence begins to be more clear. He's made the money, and now he's got the power. So, basically, they can now make an Iron Man movie based on his life.
The move is a logical step for both Feige and Marvel's parent company Walt Disney Studios, who bought the then relatively slumping comics empire in 2009 for $4 billion. It directly positions Marvel among the big three, nearly autonomous umbrella companies under Disney's watch — which includes the influential Pixar Animation Studios and Lucasfilm banners.
Each now has a top executive that reports directly to Disney with John Lasseter at Pixar, Kathleen Kennedy at Lucasfilm, and now Feige at Marvel.
While the shake-up may not make much of a difference with what audiences will see on the big-screen — Feige, after all, has been sculpting the cinematic storylines for the past six years (and is clearly now going with that new, autobiographical Iron Man spin-off) — it may have the biggest effect on crossovers with Marvel's TV properties. Joseph Loeb, head of Marvel Television, still reports to Perlmutter, who also continues to oversee Marvel's publishing and animation departments. Whether any of the Avengers show up in Agents of S.H.I.E.L.D. or Daredevil looks to be in jeopardy.
But fans who have stuck with Marvel at the movies shouldn't worry. The Cinematic Universe isn't going anywhere and will probably be even more consistent now that Feige is basically on his own. (In his cave. Developing an iron suit.)