Adorable 'Guardians of the Galaxy' Storyboard Art From James Gunn
What secrets do Gunn's Instagram hold? We're looking for the plot to 'Guardians of the Galaxy 2'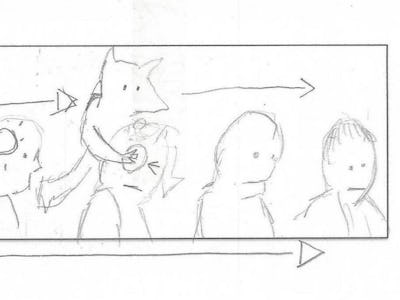 Over on Instagram, Guardians of the Galaxy director James Gunn is posting hand-drawn thumbnail storyboard shots, filled with hint s about what's going down on the set of the Marvel sequel. On the #WhatWeShotWednesday hashtag, you can follow along as the director drops a new frame each Wednesday from the Atlanta shoot.
Five weeks back, Gunn announced the sketch project and told followers what to be on the lookout for:
Recently I mentioned how I draw every single shot in Guardians of the Galaxy Vol. 2 before we ever shoot a frame. I'll spread whole scenes over my office floor or all around the walls, sometimes hundreds of shots, and it will give me an idea of how the scene flows, what's smooth, what's jumbled, and even what works comedically. Over the entire film I draw thousands of these thumbnails.
Many of them are messy and it's impossible for anyone other than me to tell what they are. Some of them get turned over to accomplished storyboard artists to flesh out. Some of them go directly to our pre-visualization team to turn into animated storyboards. And others just stay in their primitive state.
Many of you asked to see these drawings so I thought I'd start posting thumbnails of whatever it was we shot that day on #GotGVol2. I'm not going to explain what the shot is - as I said, they're messy. But maybe you can match the thumbnail to the shot when the movie is released.
What cool shots do you see taking shape? This is clearly the Raccoon who Rockets, although he looks more like an Adventure Time character.
This makes me worried that James Gunn is sad. Too sad, maybe. The headphones seem Starlordish tho.
Really wish no one spoiled the casting on this.
Look at those cool dudes. I wanna hang with those cool dudes. These are they: the cool dudes I want to hang with.
Whatever this is, I want it. Also, "Squealin".