21 Savage and Metro Boomin's 'Savage Mode' is the New Atlanta Rap Tape to Hear
Atlanta rap may not feel revolutionary anymore, but 21 Savage's project with the city's best producer doesn't disappoint.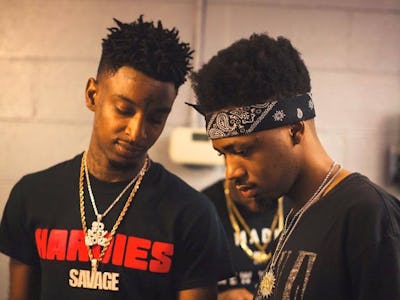 21 Savage's niche in rap music is, first and foremost, the sound of his voice. His rapping — coy but deliberate — has the rhythmic and DNA of countless other Atlanta-area and Southern rappers of the mid-2010s from Gucci Mane to Soulja Boy, not to mention the cadences of first-wave drill rappers like Chief Keef and Lil Reese. The Atlanta rapper's profile has been rising for a little over a year, with this year's Slaughter King release garnering the most attention. Last month, he was awarded a coveted spot on the XXL Freshman roster, along with likeminded rising trappers like Kodak Black and Lil Uzi Vert.
As ATL rap tends toward the increasingly exuberant and unhinged, with the ascendance of rappers like Lil Yachty and Playboy Carti, Savage's music remains menacing and deliberate. But there's a vibrant, unpredictable character to his delivery which is of a piece with hip-hop in the wake of Young Thug and Future. The latter rapper is the sole feature on 21's new, surprisingly consistent offering, Savage Mode, a 9-song collaboration with Metro Boomin, Atlanta's premier trap producer of the moment.
Future and 21's song together — a tribute to "stunting on… exs" in which 21 spends his baby mama's "rent inside a mall" — exemplifies the nihilistic tonality of 21's music; when considered in conjunction with Future's own autobiography (his antagonistic relationship with his ex Ciara), its even darker and more troubling. Yet the songs — as well as with all the other somber, creeping anthems on this release — is as catchy as it is deplorable. Many of these songs —despite the fact that 21 pens what he describes as "murder music" — are endlessly re-playable, well-written and controlled.
Savage Mode certainly outshines any of 21's previous offerings; the interesting parts don't feel accidental, and are well-paced. The conservative length makes the songs feel weightier and more urgent. Metro Boomin proves himself to be a true master of shading and nuance, adding curious bursts of tension to the songs when needed, and bookending his songs with curious, pseudo-orchestral ambient outros. This is ATL's best producer in his sinister, shimmering comfort zone.
21 often layers psychedelic kickback delay on his voice, rapping close to the mic, exploiting his vocal fry, against beats which sound like they're about to emerge from underwater but never manage it. Touches like the detuned chimes and lonesome synth trumpet that drive the excellent "Real Nigga" exemplify the attention to detail and non-boilerplate moods that separate Metro Boomin after from every other working trap producer.
Get used to 21's flippant take on standard-issue trap music taking points ("Stuart little, heard these nggas some rats/ Pocketful of cheese, bitch I got racks") and fans of Southern street-rap will find plenty to sink their teeth into on Savage Mode*. The release proves that "familiar" doesn't always have to mean "tedious" in ATL hip-hop.