Who the Hell is Lil Uzi Vert?
Is rap music dead? Not if you stop to listen and watch Philly's newest and most unlikely star.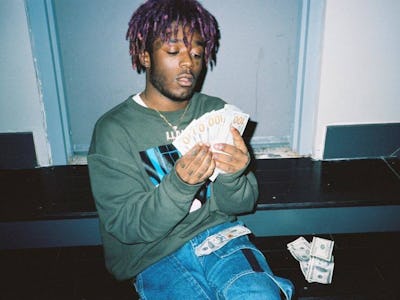 Do you care about the newest young rapper of the hour — yelping over purring trap beats, mixing triple-time rhymes with circular melodic hooks? Should you? Do you care what "the kids" like? If you claim such-and-such rapper (Young Thug, ILoveMakonnen, Lil Yachty) has effectively gone beyond what you believe "good" rap to be, do you really believe that rap has reached some kind of breaking, or ending, point? Don't fool yourself. Things will obviously continue to happen, no matter what name you choose to call them by. Lil Uzi Vert is only the latest pit stop.
Like A$AP Rocky, Fetty Wap, and recently Desiigner, 21-year-old Philadelphia rapper Lil Uzi Vert is the first in a long line of kids copping styles and slang from the South — and Atlanta specifically — in their own brand of turn-up music. This is not disparaging necessarily; often artists find their way to put a new spin on existing styles, and sometimes they don't. Uzi's music, especially the bubbly concoction on his recent breakthrough tape Lil Uzi v. The World, feels as on the cusp of the current cultural moment as any rapper out there. To some, the timeliness and fashionability is deeply off-putting. Uzi is happy to admit that his first CD was the Ying Yang Twins and one of his primary idols is Marilyn Manson.
He scored enough hype — mostly in the form of mixtape downloads, YouTube plays, and dance video placements — to earn him a deal with Atlantic Records, who released Lil Uzi Vs. The World. Today, most of his music videos clock between one and five million views. He was recently awarded a spot on the 2016 XXL Freshman roster, and a coveted feature slot on DJ Esco and Future's newest mixtape Esco Terrestrial.
These kind of placements — he's also teamed up with 2 Chainz, Wiz Khalifa, Mac Miller, and Post Malone (!) this year — and a honest-to-God deal usually set young rappers up for a decent run, or just one major moment. Without one huge crossover hit behind him, but a good string of mid-sized viral ones, Uzi's position seems more promising than the likes of, say, Kent Jones. There have also been rumors of an upcoming collaborative mixtape with Uzi's most logical spiritual forefather Young Thug, which would solidify his position even further.
Rap tradition means little to Uzi, as does typical notions of fashion and masculinity. Watch him, purple-dreaded, in this XXL cypher, handbag trailing behind him, setting the playful tone for the proceedings:
The infectious energy here is no doubt what draws listeners to his music; the appeal is not as difficult to discern as some might make it seem. Yet some still puzzle over it. In fact, The FADER recently published a piece that is solely testimonials from millennial Uzi fans explaining their fandom.
If you have trouble distinguishing him from the Yachtys and Thugs of the world, musically, consider the fact that one of his more popular mixtape tracks — "P&Qs" is essentially a trap-ified French-Canadian reel. It's a concoction that's so of-the-moment it hurts, but it's a pretty amazing construction. Watch this amazing video to it by Atlanta dance phenom ILoveMeechie, which is the most fun thing you'll see all day:
You can claim rap is dead, but fun, inevitably, perseveres.