Who the Hell is Lil Yachty, and Why Do Kanye West and Drake Care About Him?
The Atlanta rapper just released his new mixtape "Lil Boat," and is the newest, hippest oddball from his city's hip-hop scene making headlines.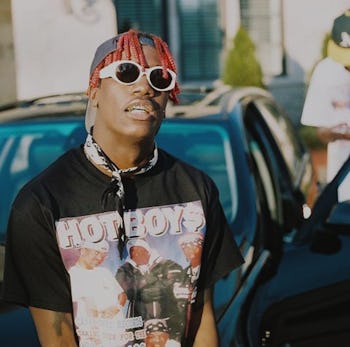 Lil-Yachty-1738752083038770/Facebook
Kanye West brought a lot of musicians into his extended circle on his February still-unfinished album The Life of Pablo and also, at the Yeezy Season 3 event when he debuted it. A few of the figures have been rappers specializing in Atlanta-flavored trap music; most notably, rising icon of the genre Young Thug appears on TLOP's "Highlights" and played model in the Yeezy presentation at NYC's Madison Square Garden. But there are also the more nationally anonymous, up-and-coming figures: the distinctly Future-styled Desiigner from Bed-Stuy in Brooklyn, sampled on "Father Stretch My Hands Part 2," and rising ATLien Lil Yachty, who just appeared for dramatic effect in the Yeezy fashion show.
Both artists are musical personalities to which one might rightfully give the side eye. Yachty, in particular, comes as part of a long and increasingly exhausting tradition of young Atlanta rappers who have adopted detuned crooning, Autotune chemtrail effects and Migos-style flows as a baseline for their sounds. Years deep in the trend — post-ILoveMakonnen, mid-Awful Records buzz — the "ATLien" shorthand has begun to feel tired. Atlanta, these days, is a small world where every artist with a trending hit and a pronounced, off-kilter sensibility seems to get a fair shake at the international blog limelight.
But Yachty, who just released his debut mixtape yesterday, didn't just steal that: He got some of Kanye West's. He also recieved airtime on Drake's OVO Radio for one of his odder and most cloying Soundcloud rips "Minnesota." "It get cold like Minnesota," Yachty intones ad infinitum in his airy falsetto, over a spooling toy piano riff and Super Mario Bros. sound effects. It's music that's easy to hate — "death of rap" music to any traditionalist. Perhaps, though, it's easier to love, especially if you like dancing that involves only your arms.
Most elaborate, erratic movements, of course, are what have gotten Yachty, and other recent Atlanta rappers, to break through; dance and other viral videos posted and disseminated by youths of the 'net often give new tracks like Yachty's veritable hit "1 Night" an important platform. Trails of YouTube and Soundcloud receipts, doubtless, led Kanye and Drake to Yatchy. With breakthrough street rap hits, this kind of grass-roots buzz is fairly typical, and spreads like wildfire.
Yachty's first full-length statement, Lil Boat, operates under the same principles as his Soundcloud page, evidencing the 18-year-old rapper/singer's discerning taste for what is cool. Even if Yachty's own identity is crowded out by the shrewd production, full of shrill timbres and kitschy sound effects, these songs generally hold together well as consummate, broad-scale records. Charmingly, they always sound a bit unfinished. Yachty knows not to wear out the one idea that usually grounds his songs, or when he's run out of cheeky similes.
Lil Yachty is not an artist anyone wants or needs, and It would be nice to see the styles of a city other than Atlanta be getting some shine, rather than continuing to pore over and debate every new Makonnen-esque act to come out of East Atlanta. Increasingly, this kind of music seems to get away from the genuine spark of inspiration that once made trap music so exciting, even as it attempts to get weirder and push the boundaries of what "rap" can be. Yachty's song dip often in the realm of gimmick and self-conscious overcuration; fashion and ephemerality feels very on the surface. Check out this video for a new song, slapped with Lil B's "RARE!" Tag and sampling a sped-up "Bittersweet Symphony":
Rapping "cool" for "cool"s sake should not be grounds for categorical condemnation, and it's not as simple as that, either. Yachty's distinct singing voice, when it's given some room to breathe on the track, lends the best songs a personal, intimate touch; if nothing else, it beats Post Malone's. And it's a sound we might as well get used to, again; with Yachty definitively on the rise, it doesn't seem likely that the stream of Atlanta must-hear early-20-somethings will led up anytime soon.