Vote Desiigner's 'New English' For Worst Rap Mixtape of the Year
The TIDAL-bound project seems like it may be a source of embarrassment for its creator as well as "Panda" lovers.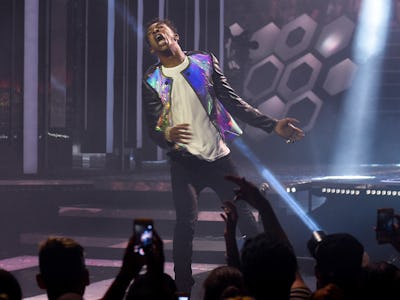 Getty Images / Ernesto Distefano
Perhaps it was Desiigner's admission that he didn't really have "broads in Atlanta" — in fact, he'd never even visited the city whose hip-hop scene he borrowed his musical vocabulary from — in a recent Billboard interview that first showed the cracks in the Brooklyn rapper's edifice. Perhaps it's more accurate to say it signaled that no lasting edifice would actually be built. After all, one polarizing hit — even if did hit #1 on the pop charts as well as the rap charts — does not longevity make, even despite his deal with G.O.O.D. Music. Kanye and Pusha T's label, like any label, can chew artists up and spit them out. If Desiigner truly only had one trick, could he even reach the longevity of a Cyhi da Prince?
But how could he – feasibly – when he's so explicitly dealing in a style patented by another rapper (Future)? Future is still put out enough about Desiigner's cracked-mirror reflection of himself — not enough created by a fellow Atlantan — that he asked for the NYC rapper's name to be left out of his new Rolling Stone feature. The ATL icon speaks of Desiigner, now, with the same degree of disdain as the estranged mother of his child.
All these things and more meant that Desiigner's debut full-length release needed to be very strong – at the very least, to silence his many detractors. Perhaps, it needed to prove his ability to hear hits, at least almost as well as the tristate area's breakout hip-hop star of last year, Fetty Wap. If Desiigner, like Fetty, became an outright pop export, the opinions of hip-hop-head skeptics wouldn't matter anymore.
But whatever showed up on TIDAL and mixtape sites this weekend, under the title New English, was, very clearly, not that. After the 14-track project's release, it disappeared from mixtape sites, and even TIDAL briefly, almost as if the rapper was getting cold feet about putting it out at all.
Trap music in the Southern lineage has always been full of controversial imagery and sentiments. So it takes a special kind of music, which feels truly empty of purpose and perspective, to come off as straightforwardly, surprisingly puerile. Playing with variations on the "Panda" flow — over masochistic, hard-knock beats — across almost every track, Desiigner's mixtape is not almost comically one-noted. Its barren sonic landscape is viscerally hard to stomach; its runtime clocks in only a bit over 35 minutes, but feels twice that. With heavy-duty, spluttering beats in the Lex Luger vein, Desiigner's next-aptest Atlanta-rap reference point on New English is Waka Flocka Flame at his most disinterested.
Let's put to the side, for the moment, the objective Future impressions on tracks like "Caliber ("Caliber, caliber, caliber, etc.) Da Day and "Talk Regardless." New English make biting a control variable in the equations. The question of New English becomes: Okay, so what unique flourishes does this guy put on his Future impression? Imitation, in itself, is not grounds for wholehearted dismissal. But the obscene growl-stank he lays on his jackhammer raps to build catharsis, his refusal to tamper with tried-and-true flow patterns even a bit, or attempt to deliver a hook which feels grounded in musicality or good taste of any kind — well, that's all got to count against his grade, big-time.
Lyrically, once one realizes that lines like Choppa known for thumpin'/ Make a nigga start Forrest Gumpin'" are the best you're going to get, you know that New English is going to be a trying ride. Desiigner's hooks are largely inseparable from his verses, as he feels like the only way to sell them is to ride them way into the ground. But with the staple gun to our heads, the refrains dont stick; they sound like 500 hooks Future, Young Thug, Rich Homie Quan, or any number of Chicago drill rappers have written better already. They are notable only for their staggering level of phoned-in-ness; take I'ma run right through this paper/ Right through a check/ Cop me a jet" or I don't know what I'mma do today/ I don't know who I'mma shoot today/ I don't know who I'mma poof today…" Even the more-sentimental "Overnight" — potentially, a promising distraction — is marred by face-palm-worthy tonal shifts: I want to the Lord to help me/ I want the Lord to kill me/ I wanna stack with my niggas/ I want my money get bigger."
Is there a new hit, ripe for the picking, on New English, or even in the vein of his recent, viral XXL "freestyle"? Absolutely not. Desiigner's project is a feed-the-streets-type venture which feels either like a stop-gap measure toward his next commercially released single, or just some cosmic, show-stopping miscalculation. Has Kanye's taste weakened so drastically? Is this G.O.O.D. Music's true nadir? And can you really even feed the streets from TIDAL? Maybe Desiigner would do best to keep it there, languishing in the most obscurity he can hope for, until the next, more team-sourced Big Idea comes along.