Is Makonnen Still On OVO Sound?
Inside the mysterious saga of the one-time Drake protegé.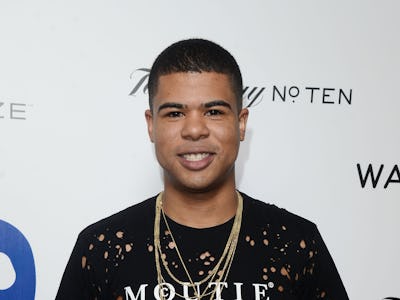 Matt Winkelmeyer/Getty Images
The career of iLoveMakonnen, the much-hyped rising star who signed to Drake's Warner Brothers imprint in 2014, might have just taken on a different trajectory. After the highly publicized signing, the relationship has fizzled in recent months.
While he's still listed on the artist roster on OVO Sound's official site, when asked if iLoveMakonnen is still signed to OVO Sound, a rep tells Inverse that no, he is not.
It's a question many people have asked especially after OVO Sound artists dvsn, Majid Jordan, PARTYNEXTDOOR, and Drake performed a surprise set at The FADER Fort at SXSW on March 19. ILoveMakonnen didn't make an appearance.
iLoveMakonnen, born Makonnen Sheran, announced his signing to OVO Sound shortly after Drake remixed his hit, "Tuesday."
Doubts of iLoveMakonnen's relationship with OVO Sound and Drake were raised when tweets from Makonnen, in which he expressed not being a fan of Drake, surfaced in 2010. "I'm so tired of hearing about Drake over hyped washed up ass already," he tweeted to @illmatic_kid on June 17. His opinion on Drake changed over the years, naturally. In Jan 2013, he tweeted, "drake ain't wack! he is actually one of my favorite artist to come out in the past few years." The words may have been pretty strong, but you can't really fault someone for growing into an artist.
Makonnen's place on OVO Sound seemed to be intact last month when he hinted at a forthcoming OVO Sound compilation album. "It exists. We'll just see when it comes out," he said during an interview with Huffington Post Live.
When asked about his relationship with OVO Sound last year though, he seemed discouraged. He told The FADER that OVO Sound "put out my music and stuff and we just keep it moving. Let them tell you their relationship with Makonnen." He continued to express his frustration of not being able to releases music as freely as he would like to, specifically "Second Chance": "It's all late. People are doubting me, doubting what the fuck I said when I made the fucking song. You wait a year later and it's whatever."
Both I Love Makonnen (2014) and I Love Makonnen 2 (2015) were released under OVO Sound/Warner Bros. Records Inc. His most recent mixtape, Drink More Water 6 (released on March 18, 2016 on iTunes), and is listed under only Warner Bros. Records Inc.
DJ Booth noted that the OVO Sound Twitter page hasn't tweeted anything iLoveMakonnen-related since November 2015.
Compared to the other artists on OVO Sound, iLoveMakonnen always seemed like an odd choice for Drake to sign, not because of talent or charisma (which he's full of) more so because of the R&B thread and Toronto origin that ties the other OVO Sound artists together.