'Power Rangers' Posters Show More Diversity Than Most Movies
The 2017 movie will be a little more colorful in more ways than one from Marvel or DC.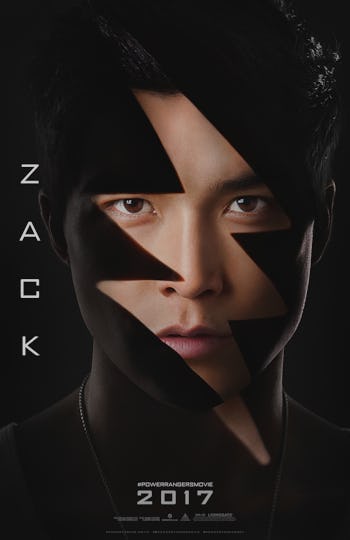 Lionsgate, MTV
With everyone playing Pokemon and listening to Blink-182 again, the '90s have returned with a vengeance. Next year, another twenty-year-old relic returns in Lionsgate's Power Rangers, a big screen reboot of the TV and toy phenomenon directed by Dean Israelite, and there are new character posters that show how refreshing the superhero movie might be.
In preparation for their appearance at the MTV Fandom Awards at San Diego Comic-Con, the film's cast — Dacre Montgomery, Ludi Lin, RJ Cyler, Becky G, and Naomi Scott — are spotlighted in posters highlighted by a shaded lightning bolt, the signature of the franchise. They're sleek, they're simple, and these posters emphasize the welcome diversity in the movie, which has never been astray from the original 1993 TV series.
In the era of Marvel where everyone is aiming to make a cinematic universe of superheroes, there's been an embarrassing absence of ethnic minority superheroes. Marvel didn't feature any ethnic minority Avenger until well into its so-called Phase Two. (South Park mocked this in the trailer for The Fractured But Whole.) But Power Rangers sports a young, diverse cast, which is sure to bring some attention to the movie if the giant robots, cartoon costumes, and Bryan Cranston playing a decapitated space wizard haven't already.
Here are the posters, beginning with Montgomery as Jason, the Red Ranger and leader of the Power Rangers.
RJ Cyler as Billy, the Blue Ranger. If the movie follows the series at all, Billy is a boy genius who invents several gadgets to assist his fellow teammates.
Ludi Lin as Zack, the Black Ranger. Originally played by Walter Jones, Zack is the "party dude."
Pop star Becky G plays Trini, the Yellow Ranger. In interviews, Becky has stated that the film will be different from the original series, a sentiment echoed by her co-star Bryan Cranston.
Naomi Scott as Kimberly, the Pink Ranger, who was the first among the cast to be announced last summer.
For comparison, check out the posters to other major superhero movies like Batman v Superman: Dawn of Justice. True, Bruce Wayne can't be a minority due to his massive WASP wealth, and Clark Kent is an alien. But do we really have to argue over this stuff?
Here's The Avengers. There's Samuel L. Jackson, but he's technically not an Avenger.
And here's The Green Hornet, which starred Taiwanese pop star Jay Chou as Kato. Sadly, no one saw The Green Hornet.
The cast of Power Rangers are expected to be at San Diego Comic-Con and at the MTV Fandom Awards. You can also maybe expect a trailer, considering how these things go.
Power Rangers will be released by Lionsgate on March 24, 2017.