The Surprising History of Bryan Cranston and 'Power Rangers'
Before he sold blue meth, the Emmy-winning actor gave his name for the Blue Ranger.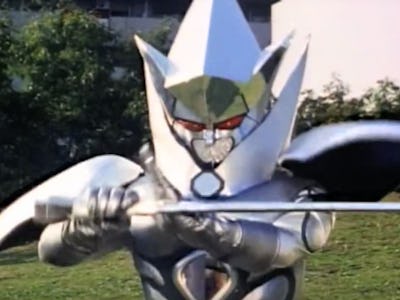 Before he was Heisenberg selling blue crystal meth across Albuquerque, Bryan Cranston was a space alien fighting the Blue Ranger.
This week, Saban and Lionsgate's upcoming Power Rangers movie, directed by Dean Israelite, added Emmy- and Tony-winning actor Bryan Cranston (Breaking Bad, Godzilla, and The Infiltrator) to play Zordon, a holy wizard from the planet Eltar locked in a centuries-old war against Rita Repulsa (Elizabeth Banks). To stop Rita's campaign from taking Earth, Zordon recruits five teenagers, who will become the superhero team, the Power Rangers.
While it's unknown if Cranston will merely provide his voice or physically play Zordon (production wrapped in Vancouver several weeks ago), it wouldn't be the first time the celebrated actor was involved in Saban's imported toy franchise.
Early in his career in the late 1980s, Cranston performed English dubs for imported Japanese anime, including Macross, Teknoman, Eagle Riders, and the Street Fighter II movie.
It was through these Cranston landed at Saban, a red-hot company riding the success of its Mighty Morphin' Power Rangers TV show on Fox Kids. Cranston voiced two monsters: Snizzard, a bow-wielding cobra in the Season 1 episode "Foul Play in the Sky," and Twin Man, who could make evil duplicates of the superheroes in "A Bad Reflection on You."
Because of Cranston's regular work with Saban, it was rumored and later confirmed on the actor's Reddit AMA and on his Twitter (and from talk show hosts who kept bringing it up around the Breaking Bad finale) that Billy Cranston, the Blue Ranger played by David Yost, was named after Cranston.
Today, Cranston's filmography is the kind any aspiring actor hopes to have. He's been a sitcom dad in Malcolm in the Middle, a crystal meth kingpin in a era-defining drama, and even President Lyndon B. Johnson for Broadway and HBO. But soon, Cranston will return to his beginnings.
Saban's Power Rangers from Dean Israelite will hit theaters on March 23, 2017.