The New 'Power Rangers' Movie Costumes Are Here and They Look Gross
No spandex or belt holsters here.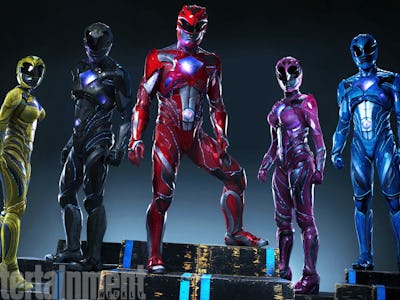 Entertainment Weekly
The Power Rangers have finally suited up for Dean Israelite's upcoming reboot of the children's toy franchise, Power Rangers, set for release on March 23, 2017. Sporting organic-looking armor and bizarre blue lightning, the suits are a radical departure from the original spandex costumes, but do in fact live up to Israelite's promise that they'd be "modern" and "edgy." It's just a shame they also look gross.
"These suits needed to feel like they were catalyzed by these kids and their energy, their spirit," Israelite told EW.
The suits were designed by Andrew Menzies, who conceived the costumes for G.I. Joe: Retaliation. "It's tricky finding a new language for a superhero costume," he told EW. "Ours is an alien costume that grows on them, that's not man-made. You can't win everyone over, but we are trying to appeal to a more mature audience and gain new fans." He basically resigns himself from the start.
The photo from EW is CGI, which makes us wonder if the costumes will be computer-generated throughout the whole film, much like Ryan Reynolds's costume in Green Lantern. Modern superhero movies have ditched CGI costumes, so I wonder what compels Power Rangers to move in that direction.
As for me, the original 1995 movie costumes would have been fine.
Power Rangers will be released from Lionsgate on March 23, 2017.