Facebook Live Is Becoming the Future of News Before Our Eyes
From the shooting of Philando Castile to the Dallas police ambush, Facebook Live is there to broadcast it all.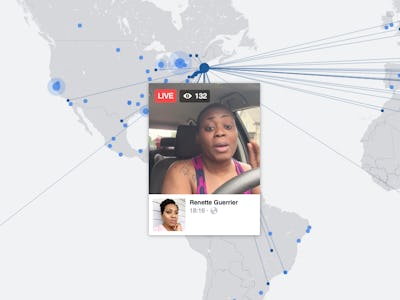 Facebook
Facebook Live might actually deliver on the promise that smartphones could allow anyone to do journalism.
The tool was most recently used in a major event during the ambush of nearly a dozen police officers in Dallas, Texas that left five officers dead and another six injured during an otherwise peaceful protest on the night of July 7.
Michael Kevin Bautista hid behind a tree and used Facebook Live to broadcast the ambush. His video has been viewed 4.7 million times in less than 24 hours. That's more than half as many views as the CBS Evening News with Scott Pelley gets on a normal night and Bautista has considerably fewer resources at his disposal.
Here's the video that made its way around the world:
That video went viral the same day that Diamond "Lavish" Reynolds used Facebook Live to make a statement about the Falcon Heights, Minnesota police killing her boyfriend, Philando Castile during a traffic stop. She also used the tool a day earlier to broadcast the aftermath of Castile's death.
Reynolds said in her statement that she used Facebook Live to share what was happening because she didn't want the police to be able to influence public opinion by withholding any of the facts. "I wanted the people to determine who was right and who was wrong," she said. "I want the people to be the testimonies here. All of us saw with our eyes — the only thing you guys didn't see is when he shot, and if I would've moved while that gun was out, he would've shot me too."
That statement was viewed 387,000 times. Her original video has been watched more than 5 million times since it was first streamed on the evening of July 6. Both videos became so popular that Facebook chief executive Mark Zuckerberg shared his thoughts on how Facebook Live was used in his own post.
"The images we've seen this week are graphic and heartbreaking, and they shine a light on the fear that millions of members of our community live with every day," Zuckerberg said. "While I hope we never have to see another video like Diamond's, it reminds us why coming together to build a more open and connected world is so important — and how far we still have to go."
In all of these cases — from Reynolds' original video and her statement to Bautista's video — ordinary citizens used the phones in their pockets and a free video streaming app to show the world a glimpse of what was truly happening around them. Those glimpses have been seen by millions of people. If that doesn't count as committing acts of journalism, it's hard to imagine what would.
When Facebook made its Live feature — which first rolled out in January — available globally, it also launched this map of live streams, which is as addicting as it is useful in situations of breaking news. Check it out at facebook.com/livemap.
The popularity of these videos will only inspire more people to share what's happening around them. It doesn't cost anything (except maybe the charges wrought by going over the data cap on a mobile plan) and it can have a real impact. Now everyone with a phone in their pocket and a Facebook account has the opportunity to reach an audience that can spare a few moments from playing Candy Crush or sharing image macros to see something that actually matters.