Lavish Reynolds Wanted Facebook Shooting Video to "Go Viral"
Facebook Live allows Lavish Reynolds to tell her story without manipulation or speculation.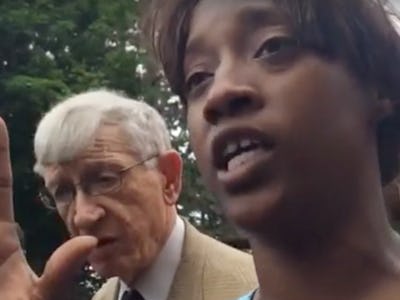 Tilia Tequila
Lavish Reynolds is using Facebook Live to ensure that the Falcon Heights Police Department can't control the conversation about the killing of her boyfriend.
When asked why she shared the video on Facebook, Reynolds said she chose to broadcast the aftermath of the shooting of Philando Castile during a routine traffic stop late on Wednesday night so it could "go viral so that people could see."
"I wanted everyone in the world to know that no matter how much the police tamper with evidence, how much they stick together, no matter how they manipulate our minds to believe what they want, I wanted to put it on Facebook and go viral so that the people could see," Reynolds told reporters Thursday after being released from police custody. "I wanted the people to determine who was right and who was wrong. I want the people to be the testimonies here. All of us saw with our eyes — the only thing you guys didn't see is when he shot, and if I would've moved while that gun was out, he would've shot me too."
"I chose for the video to go live 10 seconds before my phone died because I wanted everybody in the world to see what the police do and how they roll and it's not right. It's not acceptable," Reynolds said. "I didn't do it for fame. I did it so the world knows that these police are not here to protect and serve us, they are here to assassinate us — they are here to kill us — because we are black.
Reynolds' original video quickly spread on Facebook, Twitter, and YouTube. As of Thursday afternoon, it's been watched more than 3.4 million times.
Facebook Live has proven a powerful tool in this case, giving the country an immediate look at what happened to Castile and forcing everyone to confront what police violence looks like in-person. It also means the video cannot be deleted by police who want to suppress the footage — as anybody who's ever watched a police officer delete recordings off their phone of cops behaving badly as experienced.
There's no denying that social media has proven useful to police looking for surveillance tools. But, at least in this case, Facebook Live is establishing itself as the most important news source in yet another police shooting case that the entire world can see.
Interim chief Sergeant Jon Mangseth told reporters Wednesday evening that "as this unfolds we will release the information as we learn it, and we will address concerns as we are made aware of them," according to the Washington Post.
Oddly, he also said he had not seen Reynolds' video. "As we learn more information we will release that in a press release." No such release has been published; the most recent item on the FHPD's website is a weather advisory.
The original video has been embedded below.
WARNING: This video features extremely graphic violence and trauma.