'The BFG' and 'Legend of Tarzan' Might Not be "Summer" Movies Anymore
Two big, new films failed to make any impact.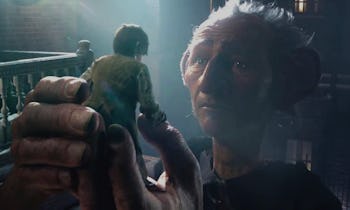 Disney Motion Pictures Studios
This holiday weekend saw the underwhelming new releases of what were supposed to be two traditionally "summer" movies. Both Warner Bros.' The Legend of Tarzan and Disney's The BFG failed to make a huge splash in domestic openings this Fourth of July weekend. The BFG, in particular, is a rare misstep for director Steven Spielberg, especially since this is the first movie he has made for Disney.
This begs the question: what exactly do audiences want in a summer movie?
For its third week straight, Pixar's Finding Dory claimed the top spot in this weekend's box office. The film earned another $41.9 million during the weekend, adding to the film's already considerable success. The Legend of Tarzan came in second with an estimated four-day gross of $44 million across around 3,500 theaters. Third place went to The Purge: Election Year, which can claim to be the most successful new release this weekend, considering its estimated $34 million gross compared to its $10 million budget. At fourth place is The BFG for an estimated $23.6 million gross across 3,357 theaters.
Both The Legend of Tarzan and The BFG are huge productions, with budgets reaching far past $100 million. Yet both films failed to ignite holiday audiences, falling behind an animated film that's already been out for three weeks. In The BFG's case, falling behind a horror film with a fraction of its budget. Even the fact that this was Spielberg's first film with Disney failed to make The BFG another one of Spielberg's many summer successes like Jaws, Jurassic Park, and E.T.
This summer has already produced several misfires from studios increasingly looking abroad to compensate for lost domestic profits. Along with Independence Day which rounded out the top five this week at an estimated $20.1 million gross; Warcraft, Alice Through the Looking Glass, and Teenage Mutant Ninja Turtles have so far all underperformed domestically.
If this trend continues, the only surefire successes in the coming summer movie seasons could just be established superhero movies, or animated films. After all, the Angry Birds movie successfully toppled Marvel's Captain America: Civil War, and The Secret Life of Pets is doing good business with an early international release (the film is set for a July 8 release in North America). There might not be rooms for nostalgia cash grabs, or classic properties like The BFG.