'Harry Potter' Slytherin Tom Felton Joins 'The Flash' Season 3
No magic necessary when Tom Felton joins the DC superhero series this fall.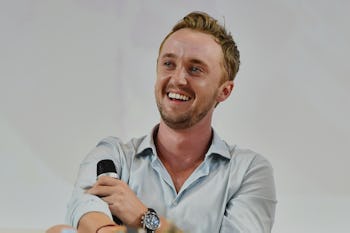 Getty Images / Stefania D'Alessandro
This is just magical. Tom Felton, best known for playing Draco Malfoy in the popular Harry Potter film franchise, has joined the CW's The Flash as a Season 3 regular.
According to TVLine, Felton will play Julian Dorn, a CSI at the Central City police department who suspects there's more to Barry Allen (Grant Gustin), aka. The Flash, than he lets on.
There's no clear comic book inspiration for Felton's character, so it's anyone's guess as to where this storyline will go. That said, Season 3 of the DC superhero series will be heavily adapting Geoff Johns's 2011 storyline Flashpoint in which Barry Allen saves his mother from dying at the hands of his arch-nemesis, the Reverse-Flash, creating a ripple effect across the DC universe. In comics, the storyline enabled a reset of the DC Comics continuity, dubbed the New 52, although these changes are slowly being undone in DC's current Rebirth.
TVLine says Felton will make his debut as early as the show's Season 3 premiere on October 4. It's a fantastic show and you should watch it, but if you're in a hurry — how fitting — you can speed through the series with a few select episodes that we've recommended.