Vinyl' Was a Cautionary Tale About Peak TV
Did HBO learn an important lesson here?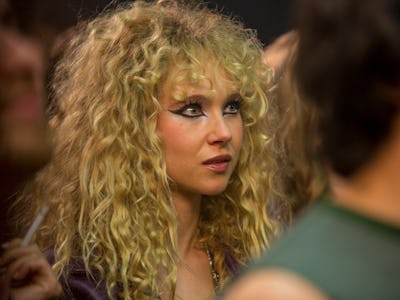 On Wednesday, perhaps the most ill-advised show renewal announcement of the year was retracted. Fans of TV drama everywhere breathed a sigh of relief (at least, I'd hope) when HBO announced in a press release that the overbaked Martin Scorcese and Mick Jagger-produced '70s record industry drama Vinyl would not be returning for a second season, as was promised back in February.
"Obviously, this was not an easy decision," the statement read. "We have enormous respect for the creative team and cast for their hard work and passion on this project."
Indeed, it must have been hard work. Not only was Vinyl a major passion project for its creators, with a supposed 20-year gestation period — the show's executive producer, showrunner and co-creator Terrence Winter left over "creative" disagreements just before the release of the show's season finale in April. You can imagine with heads belonging to the likes of Scorcese, Winter, and Mick Jagger (a newcomer to TV production, mind you) in the conference room, there would be butting galore.
Though Vinyl received largely negative reviews from critics ahead of and after its season premiere — and less-than-ideal ratings — the announcement of Season 2 came just after the beginning of the first season. This is because HBO had been developing and planning a Season 2 even before the premiere. Increasingly, this is common practice with their series now: HBO's reputation is such that they expect an embedded audience. Vinyl seemed to bear the weight of that very attitude, as if to say, "Look who we got for this project! Look how expensive these music cues are! You have to love it!"
The failure of event HBO shows like Vinyl or True Detective Season 2 (that's putting to the side mid-tier, comedic ventures like The Brink for the time being) are cautionary tales of a sense of implicit self-importance in a cluttered TV landscape. Right now, with so many outlets and platforms, there is every chance for a great show to spring up and catch on from seemingly out of nowhere (did anyone expect an auteur triumph like Mr. Robot from USA?).
The HBO monoculture is dispersing, and getting a new show to stick — as opposed to tried and true commodities from Curb to Veep to GoT — is getting increasingly difficult. Viewers may be drawn more to scrappier, smaller shows that think outside of the box, or bingeable ones on streaming services, when they are looking to sample something.
Vinyl was not only as obnoxious and farcically self-serious as its original trailers (shown ceaselessly on the channel long before the series premiere to build hype) implied; it was formulaic. Richie Finestra, as archetypal tortured male anti-hero, felt tired from the moment he stepped on-screen, even in the hands of as charming an actor as Bobby Cannavale. The shows treatment of women and race relations felt prehistoric — childish, even — and this impression only deepened as the season went on. Eventually, Olivia Wildes Betty Draper equivalent, Devon — the show's most important female character — was swallowed up entirely by the series' machismo and awkwardly grafted-on crime subplot, absent from the season (now series) finale entirely.
Vinyl didn't succeed not because classic rock'n'roll narratives aren't as cool as they were in the days of Almost Famous, or because it incorporated too many celebrity-musician impersonators, or even because its acting was subpar (it wasnt, actually). It was because it was business-as-usual, and desperate to prove that it wasn't. Viewers are not as dumb as one might be tempted to think, and boring is boring.