The 'Vinyl' Finale Hints at Season 2, But Where the Hell is Devon? 
Parsing the garbled and incomplete finale of HBO's most polarizing show.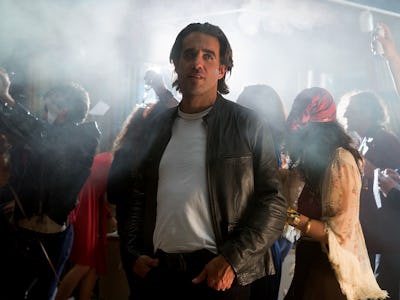 HBO Network
The finale of Vinyl affirms what co-showrunner/chief writer Terence Winter's departure before the show's (ill-advised) second season last week intimated: HBO's newest drama has truly been an aberration. It's likely that there were too many cooks in the kitchen — as Winter's friend and Sopranos creator David Chase speculated in an interview last week — and the indulgent, cluttered finale bears this impression.
There is more of tension and palpable excitement in this episode, which basically focuses on Richie's road to accidental success, behind a hit record by proto-disco group Indigo and a bit of partially staged controversy during the Nasty Bitz's opening stint for the New York Dolls. But it's also full of useless extra complications. The worst offender was Kip's (James Jagger) overdose before the show — inspired by last episode's awkward threesome and counteracted by Richie's coke to the veins. But there are numerous other groan-worthy touches. After all, the episode culminates with Richie encouraging the members of the Nasty Bitz show afterparty — including Robert Goulet (Matt Bogart), incongruously — to spray paint the American Century/Alibi offices as a sign of commitment to their new, "fucked up kids" direction.
The whole episode, and this scene, serve as nested microcosms of the entire series. They offer a prismatic image of the music industry at a time when multiple genres were changing, new ones were being invented, and no one except a few visionaries predicted where it was going. Richie is supposed to be one of these, as the spray-paint scene evidences even more cartoonishly. As always, the episode wears the blueprints for the impression it wants to create on its sleeve. It seems foisted upon us, rather than deserved.
The first two elements that work best are the moments when Winter (who wrote this episode) and veteran Sopranos and Boardwalk Empire director Allen Coulter stick to what they know best: gangster narratives. Mob boss Corrado Galasso (Armen Garo) really comes into his brutal own in this episode, especially when threatening Zak (Ray Romano) for both betraying Richie and then, seemingly, for informing on his crooked chop-shop operation. It's always felt strange that Vinyl is hung up on textbook mob stuff: awkwardly grafted onto the rest of the show's music-historical narrative. But dramatically, the show's creators can accommodate these scenes better, especially with some of their best side actors on it (Paul Ben-Victor as Maury is truly excellent).
The second enjoyable part of Episode 10: the Nile Rodgers-produced fake Indigo song. It's catchy, and the montage of Jorge (Christian Navarro) and Clark (Jack Quaid) hawking the album at basement clubs is delightful. Hopefully, Season 2 will explore the beginnings of disco and hip-hop more comprehensively.
What's most noticeable and comical here, however, is that Devon (Olivia Wilde) doesn't appear in a single frame of the show's last episode. She seems to have been cut out of Richie's life entirely, in the interest of focusing on reviving his business, and staying out of jail. Still, it's a pathetic and revelatory gesture to end the season on, after Devon's storyline was never given the emphasis it deserved — in the interest of trying to build sympathy and a "visionary" image for Richie. In the end, the Betty Draper model for Wilde's character fit better than expcted.
So the self-parodying macho, less-than-tasteful Vinyl comes to a confused and inauspicious end. And now, its future is less than certain, after the mind that seemed to be behind most of it — Winter — has made hastily for the exits. Until 2017 or '18, then. Long live co-creator Mick Jagger's comic-book version of what pop music was in the 1970s.