3 Things We Know About Apple's Future After WWDC
Apple isn't innovating the way it used to.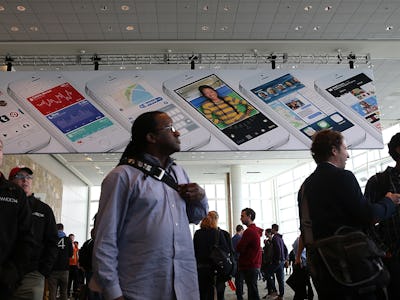 Getty Images / Justin Sullivan
When Apple revealed its first dip in quarterly revenue earlier this year — the first in 13 years, dropping 13 percent year-over-year in the second quarter of 2016 — it was no surprise to anybody paying attention. Apple hadn't released a revolutionary product in a while, which it used to do, well, a lot.
So eyes were on Tim Cook during his keynote on Monday at the Worldwide Developers Conference in San Francisco. What we got is a lot of the same Apple we've seen.
It's not as if Apple isn't innovating at all; there were a few exciting software announcements made and it seems like the company is taking A.I. more seriously with the introduction of Siri to laptops. But, when compared to the machine learning focus of Google, Facebook's virtual reality bets in Oculus, or the augmented reality promise of Magic Leap, Apple looks stagnant and stuck in its exhausted revenue model of selling iPhones (there could be worse billion dollar places to be stuck in).
There were many little improvements to the company's four main platforms — watchOS, tvOS, iOS, and the newly named macOS — but there are three changes coming that show Apple is still the same company consumers have come to intimately know and demonstrates the company's unwillingness to change.
3. Apple Still Really Wants to Sell iPhones
One of the more wild rumors that circulated before WWDC was the possibility Apple would release iMessage on Android. Sadly, that didn't happen even though iMessage has several really cool new features.
Given the poor state of Google's messaging apps, Apple could potentially get a whole new segment of users hooked on its iMessage service and potentially even get some to convert to iPhones. Now Apple is just teeing up other messaging services to fill that hole from Facebook Messenger to Google's soon-to-be-launched A.I. messaging app Allo.
It shows how Apple is very unwilling to move from a hardware company to a services company, which is where nearly every other tech company is moving right now and Apple claims it wants to move.
2. Apple Is Still the Leader in Privacy — for Better or Worse
Whenever Google gives a search or text suggestion that's spot-on for what users need at that moment, it's a recognition that users give up a good bit of privacy to make that system work.
Apple is betting its users won't have to make that trade through a technology called differential privacy, which uses local files to implement machine learning and, when Apple needs to access larger data sets of other iPhone users, it scrambles the personal data.
It's not clear this kind of machine learning can be as powerful as Google's, but it shows Apple isn't backing down from this privacy issue — even if it comes at the expense of the services offered.
1. Apple Still Likes Making Money Off Apps
Before WWDC, Apple made an unexpected announcement to the core functionality of its app store: developers can now charge users based on a subscription model, which gives app companies a third avenue to make money through the store, joining in-app purchases and straight-up paying to download the app.
However, a lot of struggling developers are claiming this isn't enough to revive what's become a flagging app economy. Apps could generate $101 billion annually by 2020, according to market research firm App Annie, but that's almost entirely generated by the select few apps at the top. As Bernie Sanders might put it, the 1 percent of apps at the top are taking all the profits and shrinking the middle class app economy.
Subscription apps are a good step to boost the middle class apps, however it might not be enough, and it's not much of an admission that there's anything wrong at all.