Facebook Shows How You'll Post to Your Wall in Social VR on Oculus Rift
Selfie sticks invade virtual reality.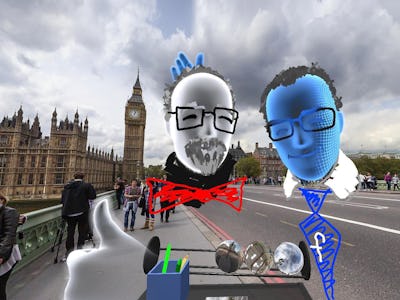 Mike Schroepfer
At Facebook F8 in San Francisco today, Facebook CTO Mike Schroepfer concluded his section of the keynote with a demonstration of social virtual reality. He was "joined onstage" by Facebook's Social VR team leader Michael Booth — who was actually at Facebook HQ, in Menlo Park — and, together, they traveled to foreign and faraway landscapes.
Facebook, which owns Oculus, is a driving force in the VR race. Since it was originally a social network, it's looking to socialize VR experiences. The demo at the F8 keynote today gave us insight into how these experiences may look and feel.
Schroepfer and Booth gave each other photosphere bubbles. Booth would hand Schroepfer a bubble, Schroepfer would dunk his head in said bubble, and they'd both be transported into that bubble's world. Each bubble contained a high-definition 360-degree photo. The pair traveled all over the world, winding up in London near Big Ben. Conveniently, in said 360-degree photo, a couple was taking a selfie — which led Booth and Schroepfer to take their own selfie.
All ensuing social VR interactions were "experiments," but all these experiments seemed impressively robust. Booth equipped Schroepfer's avatar with an already-prepared disguise, then drew a Facebook-branded tie in midair and placed it on the avatar's neck. Schroepfer, in turn, gave Booth a red bowtie. The two then posed for a few selfies, and the photos appeared on the virtual desk between them.
Then, the duo quickly sifted through the photos to find the best one. Once they had, Schroepfer dropped the photo in a hitherto mysterious Facebook-box on the table; Booth informed him that he had just posted the photo to his Facebook wall.
Here's that photo, as it was taken within virtual reality:
And as it was shared within virtual reality:
And here's Booth's side of the story.
Both Schroepfer and Booth remarked on how fun an experience it was at the conclusion of the demo.
The F8 audience was likewise thrilled.