O.J. Simpson-Theme Trap-Rock. Sure!
Atlanta's '94 Broncos are angling for a breakthrough with a little help from the recent Simpson murder trial craze.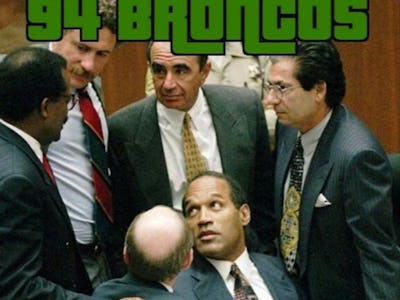 Fewer and fewer major outlets seem to be taking chances on covering small bands these days – due to a combination of changing cultural proclivities and dire financial straits. When they don't know a guy who knows a guy who knows a guy, aspiring artists search for bizarre tactics to breaking through the noise, finding unusual angles that might inspire coverage.
Recently, an Atlanta band found a particularly odd and timely one. One of the strangest music submissions to enter my inbox of late has been a collection of Soundcloud links from a band called the '94 Broncos.
According to drummer and de facto bandleader David Pellum II, the band was both attracted to O.J.'s story and realized what an effective hook it could be for its music. It coincided with a year when two major O.J. television events were due to premiere: The People v. O.J. Simpson, and ESPN's *O.J.: Made in America,. The upcoming Martin-Sheen-produced O.J. defense six-part miniseries, too, is due out in early 2017.
In a recent interview with Creative Loafing, Pellum traced the origin of the band's name back to lead singer and guitarist Jack English, who "happened to go home from the hospital as a newborn on June 17, 1994, the date of the infamous Bronco chase." When FX announced the The People vs. O.J. Simpson's February release date, the band decided, as Pellum told Inverse, to "drop an EP every two weeks on Tuesday, to coincide with the FX series' airdate.
Smart move. Since then, the '94 Broncos's collected works (13 songs) have racked up thousands of plays that — it's safe to say — they might not have without a combination of fortuitous timing, good marketing sense, and Pellum's relentless self-promotion.
The music's relationship to the O.J. case is mostly oblique. But Pellum describes the inspiration for the title of the band's most recent EP, We Dont Pull Over, as an extrapolation from the Bronco chase narrative: "Whatever you do in life, go full-speed ahead and go get it! What stopped O.J. from driving was himself. He decided to stop. You are your biggest critic."
In one instance, it's strangely direct: We Don't Pull Over actually begins with clips from The People v. O.J.'s pilot, featuring David Schwimmer's Robert Kardashian begging Cuba Gooding, Jr. as O.J. not to "kill [him]self in Kimmy's bedroom." The monologue is overlaid with two-way radio static and sirens. Eventually Schwimmer's "Gimme the gun" entreaty becomes, effectively, the song's chorus, positioned against a churning guitar riff recalling the early Black Keys.
Pellum says that the inspiration for starting off the band's EPs with soundclips stems from his love of Southern hip-hop mixtapes (after all, his city practically defined the format for the MP3 generation). "Rap music has skits and I don't see to much of that in rock music," Pellum explained. "I wanted to hook the listeners in the first 15 seconds."
As vocals creep in across We Don't Pull Over and the other EPs, its clear that the band is not just dealing in O.J.-aissance novelty songs. The songs paint sometimes-sordid, often semi-political scenes.
The Take That Shit to Trial EP's "Protect Your Magic" is a call-to-arms led off by guitar noodling against a clip of Hillary Clinton's infamous "super predators" comment about youth crime during her 2008 campaign. The Acid Wash EP — the '94 Broncos's third release this year — deals in goofy turn-of-the-'90s nostalgia, but also kicks off with a clip of Bill O'Reilly throwing a tantrum over not being able to read a teleprompter, and incongruously integrates clips from HBO's recent Vinyl (see "Black Irish").
Ultimately, '94 Broncos's project seems more thoughtful than opportunistic. Its heartfelt lyrics — though muffled by static in the mold of Iggy and his Stooges — engage with, among other things, race relations in America. Their music and online presence is an evocative and weird mess of cultural touchstones. Even if its pastiche-y concept is more interesting than the music itself, you have to hand it to the band for grasping something new.