'American Crime Story: The People v. O.J. Simpson' Does Not Want You to Know the Truth
The pilot of the Ryan Murphy-produced, Cuba Gooding, Jr.-starring series is a daring look at the pre-arrest stage of the O.J. saga.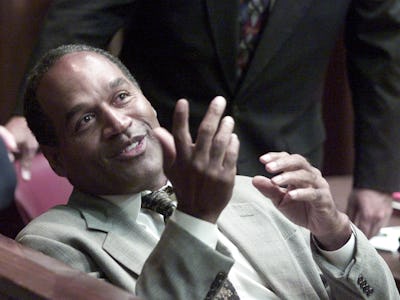 Pool Photo/Getty Image
The title of the new Ryan Murphy-produced FX American Crime Story season about the O.J. Simpson trial is The People v. O.J. Simpson, which functions as more than just a boilerplate title referring to the name of the case, People of the State of California v. Orenthal James Simpson. The phrasing calls back to one of the most definitive and strangest works of the writing team behind the show — Scott Alexander and Larry Karaszewski — whose 1996 film The People vs. Larry Flynt turned biopic tradition on its head by toying with farcical characterization and darkly comic themes. Their work, like a wily kind of fan fiction, usually starts with the legends surrounding their subjects (see also: Man on the Moon) and twists them out of shape.
Most importantly, though, the new show's title implies a narrative perspective, which the highly and almost infuriatingly eccentric style of its pilot episode seems to embody. This is the idea that Alexander and Karaszewski's O.J. story — like producer and director Murphy's own compendiums of horror movie tropes in his American Horror Story installments and Scream Queens — is its own kind of collage of lore. It's not really the fixed and approved "untold story," or some lightly fictionalized serial drama take on the "true crime" genre. It examines, in large part, the public's understanding of the O.J. legend, both at the time and afterwards/now ("now" results in more Kardashian family screen time). It synthesizes strains of theories and the strangest in exposé texts surrounding the epic case, which captured the public imagination for the better part of year in late 1994 and early 1995.
Like any Murphy production, it is, in a narrative sense, threaded together from many different perspectives on its source material. These perspectives include everyone from the defense "dream team" (particularly David Schwimmer's Robert Kardashian) to Johnnie Cochran and those who saw O.J. as a racially-motivated crucifixion of sorts, to the paparazzi in the trees of Simpson's home, waiting to capture him being cuffed. Larger-than-life figures are meant to stay larger-than-life — sometimes parodic.
But where, perhaps, a Lifetime movie or most biopics-by-the-numbers would want us to suspend disbelief — on some level, "believe" what we see — Alexander and Karaszewski want to keep us discomfited, and out-of-the-know. Central to this effect and the self-consciously "experimental" quality of ACS' pilot — directed by Murphy himself — is the increasingly imprecise Steadicam cinematography. The camera is always in smooth, swooping motion throughout the episode, but as the events get more jumbled and more perspectives are introduced, many of the shots get less cinematic — jarringly amateurish, in fact. Murphy's approach sometimes recalls dead tape of a family reunion, where one's uncle has zoomed in too far on the camcorder and forgot to shift angles. Much of the dialogue in ACS' pilot, therefore, takes place just outside the frame. We're staring at unfocused filing cabinets, drapes and blank sections of wall; it's rare to see a full shot of any character's face.
At first, this approach makes narrative sense: We are the obscured eye of the paparazzi and news channel cameramen, assembling at various locations to get any nugget they can of the action (think the bloodthristiness of the teams in Nightcrawler). But then we're taken into private spaces where these people would not be; no one, in the story, is meant to be watching. We always have half-vantage; we can't really get a grip on O.J. reacting to accusations, or either performing or experiencing grief — choose your poison - because we can't see his face half the time. Gooding Jr.'s face might be a sliver at the side of the frame. Yeah, it's super indulgent, but hard to tear your confused eyes (is there something wrong with the zoom on my TV?) away from.
The episode, with every shot and as a whole, summarizes the pervasive feeling that the O.J. trial and high-profile, media-disseminated and re-disseminated cases like it instill in those paying attention: a feeling of both knowing so much — almost too much — and really nothing about its particulars. There is this feeling of perverse intimacy through the investigative-reporting-style of camerawork, yet ironically, it's just evidence of our gnawing, sickening inability to edge any closer to the truth. The feeling recalls looking at the same bits of field footage being played and replayed on the morning news — staring at one or two photographs, perhaps the one darkened on the controversial 1994 TIME cover, trying to psychoanalyze a man it's so hard to believe could be a killer.
So Murphy's camerawork, which finds little similarities with anything else recently seen on television, nudges us toward a feeling of truth where there is none. It mocks our desire to know it all, to have our own private concrete verdicts, and feel like insiders or experts. It makes us a little seasick. As with all programming which Murphy's hand touches, it is not the way the story ends up that matters here; in the case of ACS, we know it already. It's the florid aesthetic details, and the cynical, distant, and very eerie lens through which we view it. It remains to be seen if odd camerawork and stunt casting (streak-haired Schwimmer and crooked-eyebrowed John Travolta, most notably) can be the stuff of a full, compelling 10-episode series.