Want to Know Why Starz Suddenly Feel Relevant? Two Words: Carmi Zlotnik
Starz Managing Director Carmi Zlotnik spoke with Inverse about what's behind shows like American Gods, Black Sails, and Outlander.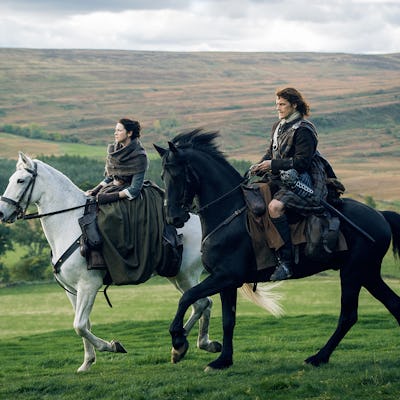 Starz 
If you are a person who watches television, you've probably heard the phrase "the Golden Age of TV" tossed around a time or ten. This age has gone through several phases, with The Sopranos paving the way for shows focusing on crime and family like The Americans and Sex and the City paving the way for shows focusing on love and sex like The Girlfriend Experience. And of course, Game of Thrones, which is currently the biggest show in the world, has given epic genre storytelling a large stake in this Golden Age.
Though fantasy has free reign to do what it wants — characters can be blue-skinned and pansexual if the writers so chose — Game of Thrones and its ilk largely follow the Tolkien and C.S. Lewis tradition of primarily focusing on straight white men and catering to a similar assumed audience. But Starz has been changing that game. FX's mercifully short-lived The Bastard Executioner was a same-old story about a paint-by-numbers bland white guy with a sword and a vague mission; Starz's Outlander centers on an unconventional woman and unabashedly emphasizes the female gaze while [American Gods]((https://www.inverse.com/article/16536-gillian-anderson-joins-american-gods-neil-gaiman-s-drama-approaches-god-mode) will be one of the only fantasy shows with a mixed-race protagonist. And while History's Vikings is an epic show with an oddly prudish approach to sexuality, Starz's Black Sails is an epic adventure that just so happens to also be one of the most casually queer shows on TV and navigates sexual politics in a smarter way than Game of Thrones. Whatever Starz has been doing, it's been working, as it's been home to some of the most progressive genre storytelling on TV.
We were interested in finding out why, so we spoke with Carmi Zlotnik, who oversees the production of Starz original series. Zlotnik has been in the Golden Age of TV from the ground up, starting at HBO, where he oversaw shows like The Sopranos, Six Feet Under, and Sex and the City. At Starz, he oversees Outlander, Black Sails, The Girlfriend Experience, Ash vs. Evil Dead, American Gods, and more.
Between Ron Moore, Bryan Fuller, Steven Soderbergh, Sam and Ivan Raimi, and Jonathan Steinberg and Robert Levine, you've got some of the most creative minds on TV behind your shows. What's your criteria for choosing showrunners?
What defines a showrunner is a person who has great ideas, breakthrough thinking, and the ability to execute. Chris [Albrecht] kicked down the door of what was possible in television. He set a tone for intelligent themes and complexity of writing, and other people have started to look at that. If you chose smart people, you don't need to micro-manage them.
One of the people I'm most excited to be working with is Courtney Kemp. We always knew she was a great writer, but now she's become a showrunner because she's a manager and a strategist. Shes the only African American female running a premium show.
Is diversity something you're actively seeking out?
Diversity and inclusion are important to us corporately and creatively. We've been looking at the role of women and making sure there's enough female writers and directors populating our shows. One of our big models is of blind spots. Everybody has them — we just don't want too many people with the same views. You need another human to tell you, "What am I missing?" If we're replicating ourselves, we're replicating our shortcomings.
Diversity means different things to different people. The strategy Chris and I have been working on is adding shows for different types of people. We started with Sparcatus and doubled down in genre area with Black Sails. When we did The White Queen, the response we got from the female audience said there's a response to strong female characters. Power has blown up in African American circles, and that's a relationship we want to continue. Our big effort now is finding the defining Latino show and a show that speaks to the LGBT world.
It's also interesting that you're making a lot of shows based on books, like Outlander, American Gods, and even Black Sails, with its connection to Treasure Island. What's the incentive behind that?
It's great to have a blueprint. It's great to have somebody who has spent years and years mapping out a world, and it's great to have a fan base. For Outlander, twenty-five million people have been waiting for twenty years for someone to do a screen version of it. The key for us has been to be respectful of the fan base, be respectful of the creator, and work to adapt with those two things in mind. With The White Princess, were working with Philippa Gregory; Bryan Fuller and Michael Green are connected to Neil Gaiman; and Ron Moore nailed that relationship [with Diana Gabaldon] from the very beginning.
Some of your earlier shows like Camelot and Boss were short-lived, but Black Sails and Outlander are both making it to at least four seasons. What do you think has enabled you to hit your stride in recent years with shows that last longer?
I don't know if I agree with the premise that longer running shows are working better. You have to hit the amount of time to the story that you need to tell. In terms of hours, what does a story need? And then at what point as a business is the show doing the things it's necessary to do?
Boss was a critical success and had a smaller fan base. It was skewing older where we wanted to skew younger, and it was an audience we already had. We picked that demographic up in Black Sails, and reached the genre Comic Con audience too. It's one of the difficulties of the pay TV business — there's no direct correlation between viewership and subscribership. Paying for a show is a high hurdle. You want to put forward an offering that's so compelling, people feel like they need to watch it.
Speaking of compelling, I'd be remiss if I didn't ask on behalf of all Black Sails viewers if a renewal after Season 4 is in the works?
Jon [Steinberg] just wrapped Season 4 and has been away, but we're talking to him soon about what comes next and if comes next. We're open to anything.
Between Black Sails, Outlander, and Da Vinci's Demons, you've got some of the most striking opening sequences on TV. Is that something that's important to you? Or is that just a result of working with Bear McCreary?
Our ambition is to try to make everything art. You want to try and delight the audience. On all our shows, we want to do something that's unique, interesting, and hopefully impactful.
What show are you most excited about right now?
We've got The One Percent with Alejandro Iñárritu and his team from Birdman; we've got Counterpart which is a starring vehicle for J.K. Simmons. Morten Tyldum is directing it, from The Imitation Game. We're stressing the value of tapping into the indie film industry. There's talent there, and it helps us work with this side effect of the expansion of TV. The industry has expanded so much that it's thinned out the talent pool — but there's talent in the indie film community, and what's low-budget for us is substantial for them.
And I'm completely obsessed with American Gods. It's a fascinating book, it's a great cast, and I'm loving the dailies.
It's had several false starts and bounced around to other networks before settling on Starz. Why do you think you've been the ones to finally succeed at bringing American Gods to the screen?
This is a tough adaptation. You're blending fantasy that's happening in a real world, but I think Bryan Fuller and Michael Green are the right people to do this adaptation. It's not so much Starz; it's really their leadership and the way they're pulling it together.
It's simultaneously action and a heros journey. Its about the exploration of the US and what it means to be American, and the things we worship and hold dear, and the idea that the gods and the worship of gods are what has bound societies together. Neil [Gaiman] has been really smart about the way he's depicted things like Technology and Money as the new gods. When I went and read the book, I said, "I understand why this hasn't been done yet. It would be an amazing achievement to translate it to the screen." Most well-thought literary properties have already been done. I said, "If we can put together the team to do it, it will be amazing." When you have Bryan [Fuller] and Michael [Green] and Neil [Gaiman] all working collaboratively together — that's the formula.