'The Americans' Season 4 Brings Everyone Together
Episode 12 sets up imminent disaster, thanks to the greatest threat to world peace we've seen yet on the FX show.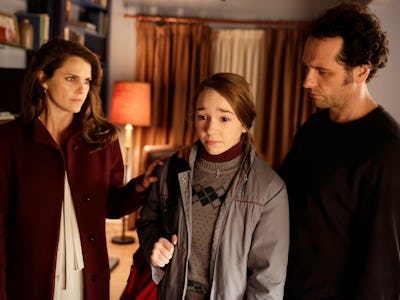 Patrick Harbron/FX
The central line in the 12th episode of The Americans' 4th season is probably the most revolting in the history of the series. William (Dylan Baker) describes the biological threat the U.S. is harboring in its military facility, in even more graphic detail that he has in previous episodes. The Lassa virus causes one to "dissolve inside and shoot yourself out your anus."
Though perhaps Phillip (Matthew Rhys) is the only one who has heard William's description, his is not the only character to understand the gravity of America harboring and testing a biological weapon. Phillip has been having a crisis of faith about whether to pass off the virus to Russia for several episodes. By this point, the prospect of spreading the weapon has become so abhorrent to William that he refuses to do the mission; later, a weary Gabriel (Frank Langella) appears to convince him to do it, promising him safe passage back to Russia ("home") afterwards.
Oleg (Costa Ronin) only needs to catch a faint wind of the virus' capabilities from Tatiana (Vera Cherny) — now soon to depart for Nairobi to be the first female rezident — to know that something awful is coming. We also know that Oleg knows science and technology, and feels and worries about the fact that the Russians are always slightly behind America. They often mess up the science they attempt to copy, and are too hot-headed about it. Earlier in the episode, we see him, consternated, looking over plans for the Challenger, presumably brooding over how precarious advancements of this sort can be.
It's been unclear what Oleg's plotline, which has gotten a fair amount of screentime this season, was aiming for, almost annoyingly so. In a complete left turn, it turns out it's a last rendezvous with Stan (Noah Emmerich), in which he lets him know that the KGB has a mole in a military facility, who is attempting to intercept a biological weapon. Its a very effective moment: Oleg's doubt and constant opaqueness channeled into one grand action.
This sets a series of events into motion. Aderholt (Brandon Dirden), Stan, and the Bureau have been busy worrying about what to do about the mail robot bug, and have even captured the person who picks up its data. However, all their resources are now poured into figuring out who the weak link in the relevant military facilities might be; a few sleepless nights of research leads Aderholt to pin it on the right man.
Just like that, William, and everyone else who answers to the Center, is now squarely in the FBI's crosshairs. Phillip, after all, is intimately involved, and probably part of William's gambit to get the sample out of the building. Elizabeth has sacrificed everything to get the code, and Phillip, Gabriel, and Elizabeth have all revealed their faces to Don (Rob Yang), who works at the facility Aderholt and Stan have pinpointed.
In the final moments of the episode — which does a great job of setting up a big blowout — even Paige (Holly Taylor) is drawn into this storyline. After witnessing her mother overreact and kill a mugger, she gains leverage to pry further into her parents' work, and to pressure them to take her into their confidence. She finally gets them to tell her that they are intercepting a weapon to pass off to "their" government.
Nothing can surprise Paige anymore; she's just learned that her mother has killed people, too many for her to remember. "Great," Paige says, sarcastically, resignedly… well, it's unclear.
The question to be answered is: What exactly is going on in Paige's mind? Her parents are angry that she seems to be reporting information about Stan from Matthew (Danny Flaherty) — now, perhaps, her boyfriend-to-be — even though she wasn't asked to. It's not as much the issue of who in the KGB will be taken down during the Lassa extraction operation, but whether Paige is going to join the family business, or throw a huge wrench in it. She has the power to, now.