From Don to Agent Gaad, How Many Lives Can 'The Americans' Ruin in One Episode? 
In Episode 10, preparations for the KGB's biochemical operation hurries the show toward tragedy and disaster.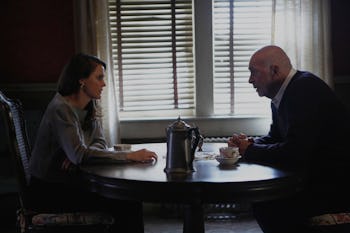 Craig Blankenhorn/FX
The following article contains spoilers.
What's more troubling: watching one of the Jennings in the process of ruining someone's life, or observing the aftermath? This is what viewers of The Americans are forced to decide this week, following last week's weird and harrowing installment, which featured Elizabeth (Keri Russell) sabotaging Young-hee (Ruthie Ann Miles) and her husband Don's (Rob Yang) relationship.
In the opening moments of tonight's episode, "Munchkins," Paige (Holly Taylor) cooks pasta at the Jennings' house, and enquires about Philip's (Matthew Rhys) upbringing in Siberia. "Did you like it?" Paige asks. "I don't know, we didn't think that way," Philip answers. Later: "It wasn't about what you liked, it was about hard work and protecting your family." Intercut with this are images of Elizabeth and Young-hee talking on the steps after an awkward dinner with her children, and a Don who looked like he was on the verge of vomiting the entire time.
As Elizabeth is walking away, she looks truly pained; it's a new image for Russell's character. The Americans, even after three-and-¾ seasons, manages, somehow, to show us new emotions in Philip and Elizabeth, who have been through so much already, that you might think there was little that could faze them. Ultimately, even Gabriel (Frank Langella) has to take notice of how much the Young-hee operation is troubling Elizabeth, and agrees to help her look for a way to mitigate the toll her search for the codes to the military facility" will take on Don and Young-hee's family.
This season is partially about age wearing on the couple — and with that, the job. Every task makes them wonder anew why they are doing all of this, what purpose they are truly serving. "My father was a logger. He'd come home tired," Philip remembers to Paige. "My mother, she was tough." Same as it ever was, then. Philip and Paige, wonder silently together if it's possible to break the cycle, or if that's even the point. When does one's "lot in life" become set in stone?
Entropic forces beyond the Jennings' control dominate this episode. Pastor Tim (Kelly Aucoin), in a freak accident, gets lost in Ethiopia on a mission trip, prompting Alice (and Paige) to suspect Philip and Elizabeth's involvement. They weren't, and eventually Tim is found, but there is a certain irony to Philip and Elizabeth's horrified denials. "What, do you think we kidnap people and we kill them?" Elizabeth says to Paige, making a dark joke to the audience. For a moment, even we are inclined to believe they are involved in the disappearance.
Later, Agent Gaad (Richard Thomas) is accidentally killed running from who we can assume to be Russian agents while on an innocent vacation in Thailand; were forced to watch the life literally drain out of him, after he's impaled on a shard of broken glass, in painful real time. With this — as with so many other tragedies on the show — the show asks: Can you ever really escape this kind of life?
The Jennings have been asking themselves consistently through this season. Even if they are never found out, will they ever be able to not live in fear? This episode hints at, but doesn't end up pushing at least two different avenues by which they might be discovered by the Americans. The first: Martha's father, in denial that she was involved with the KGB, comes into town to have a drink with Aderholt (Brandon Dirden) and Stan (Noah Emmerich). This sets up the possibility that he could run into Philip, and identify him to Stan; their conversation dances dangerously around the name "Clark," but then dissipates uneventfully.
The more longterm possibility is that Stan's son Matthew's (Daniel Flaherty) burgeoning relationship with Paige may lead to the Jennings' secret getting back to Stan. Matthew tells her about the "disappearance" of Martha (a "spy" secretary in her father's office), speaking, no doubt, to Paige's fears about her parents being involved in more dastardly doings than they are letting on. If Paige has reason to think that her parents are the monsters that they, in many ways, are, then its hard to tell if she might give them up to someone else she trusts in a moment of crisis.
In the meantime, though, Philip and Elizabeth will soldier on with the current operation at hand, which relates to biochemical weapons of the absolute worst order. A computer specialist is coming in from Russia, as both Gabriel and Tatiana (Vera Cherny) — in some heavy pillow talk with Oleg (Costa Ronin) — confirm. Even more desperate measures, as always, may be called for soon. Will it all be worth it? All the Jennings can do is rely on Gabriel's one-liners.
"The best deterrent is strength," he reassures them. "Even their president says that."