'The Americans,' In One of Its Best Episodes, Hints at Paige's Potential Tragedy
In Episode 8, epic fights between Elizabeth and Philip, and Elizabeth and Paige, point to darker directions to come.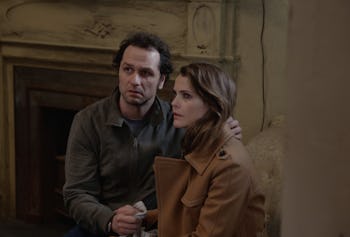 Patrick Harbron/FX
The latest episode of Americans ranks among one of the best of the entire series. The yelling match between Elizabeth (Keri Russell) and Philip (Matthew Rhys) at its center is nothing short of a revelation, a major breakthrough moment in the FX series.
The blow-up comes unexpectedly: We thought Elizabeth was becoming supportive of Philip's EST seminar visits. Rhys' performance, which moves from disbelief to belief to vitriolic anger, is adept here. The trigger phrase — "I just think it's very American" — manages to resonate as both comical and powerful in the context of the scene. In one sense, it's another one of the winking "Oh remember, they hate capitalism bits that are peppered throughout the series. In another, it's one of the most honest discussions the Jennings have ever had.
Surprisingly, Elizabeth and Philip are eviscerating each other about things that occurred in the show's first season; perhaps we'd almost forgotten them. There's Elizabeth's grief over former lover [Gregory]'s(http://theamericans.wikia.com/wiki/Gregory_Thomas) (Derek Luke) death while carrying out a mission for the KGB ("I'm sorry the man you loved died and you're stuck with me!" Philip screams.) Then: Philip's betrayal with his former lover, Irina (Marina Squerciati), with whom he has a child ("You slept with the woman who had your son and lied to my face about it," yells Elizabeth).
Bringing up this old news feels strangely logical. These are not events we ever saw them work through; we were haunted, instead, by how quickly they moved past them. The Jennings keep things balled up inside them — repressed for years and years. It's what the Center and Gabriel (Frank Langella) expect them to do. Perceiving the cracks forming — and Philip's persistent guilt about Martha — leads Gabriel to complain about their marital squabbling to Claudia (Margo Martindale). We understand, now, Elizabeth's simmering resentment, jealousy, and sadness through the escalation and aftermath of Martha's exfiltration.
The episode builds from the fight, interrupted unceremoniously by a phone call. Other deeply engaging moments in the episode follow directly on its heels: Elizabeth's forceful indoctrination of Paige (Holly Taylor) is arguably an even more emotionally intense scene than the Philip argument, though not as cathartic. The unending sympathy we had for Martha, the series' constant unfortunate, will now be filtered completely over to Paige in Alison Wright's absence. Paige has to feign the Christian faith she has been gradually losing (that beer in the last episode was a funny hint toward the fact) and report to her parents every day about her activities with Pastor Tim (Kelly AuCoin).
She has, effectively, become one of their "agents," like Martha and the two lost lovers Philip and Elizabeth were screaming about. Another of these, of course, Elizabeth kills with a vodka bottle in this episode: Lisa (Karen Pittman), the Northrop employee she had been using as part of an operation to obtain information about U.S. stealth aircraft (Remember that part?)
Will Paige, like all the others, come to a tragic end? It's a scary notion, but one which this brilliant episode, which culminates with a jump 7 months into the future to show Paige equally unhappy, seems to cement. Philip and Elizabeth may not have to handle chemical weapons, or have side marriages, or kill off people on side jobs anymore (we see Philip, disguised, mourning at Eugene Craft's grave earlier in the episode). But "travel agents" or not, they still have to use and exploit their own daughter. Either Paige or her parents will weather the storm, but one of them will have to drown.
To close, that David Copperfield footage again: