'Power Rangers' Is 'Looking Great,' Could Have Seven Sequels, Says Lionsgate CEO
Lionsgate's Jon Feltheimer is putting the studio's faith in Saban's technicolor superheroes.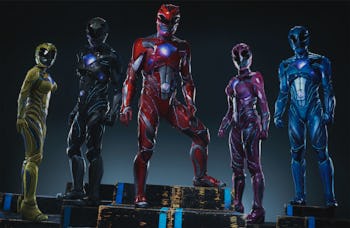 Lionsgate
Lionsgate is learning from its mistakes. After the massive success of Twilight and The Hunger Games, the studio quickly took on the dystopian young adult novels Divergent from Veronica Roth without looking before it leapt, resulting in the underwhelming third film Allegiant. Now, Lionsgate CEO Jon Feltheimer is saying the company is being more cautious with Saban's Power Rangers, having strong faith in the property to become an evergreen franchise.
"Power Rangers were really, really excited about, its looking great," he told media at a conference call this morning (via TheWrap). "We could see us doing five or six or seven of them."
With more than 20 years on television, not to mention comic books and video games, there's no shortage of stories for a Power Rangers movie franchise to explore. Could the Rangers graduate into the Zeo Rangers? Could there be a slow burn towards the "Countdown to Destruction" storyline that fans consider the proper "end" to the original series? It's all possible in something as long-lasting such as Power Rangers. It could also be a problem, as seen in 20th Century Fox's X-Men which has become convoluted and complicated in its long lifespan.
In discussing Allegiant, Feltheimer admitted it was "rushed" instead of "taking our time with it." Released on March 18, Allegiant drastically underperformed against its $110 million budget, opening to just $29 million. Worldwide, it's grossed only $170 million, which isn't a strong figure to solidify a tentpole franchise. He added: "We wanted to hit a date."
Power Rangers is currently shooting in Vancouver from director Dean Israelite with Elizabeth Banks anchoring as the main antagonist Rita Repulsa. It will release on March 23, 2017.