Toyota and Uber's Partnership Is All About Ride-Share Drivers, Not Customers
Toyota will begin leasing cars to Uber drivers.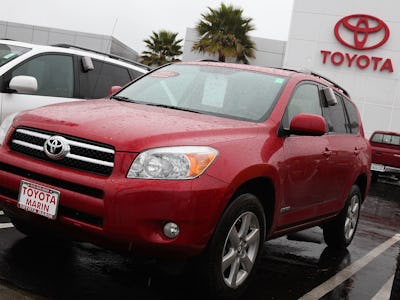 Getty
Toyota announced a partnership with Uber today. The collaboration includes plans for the largest auto manufacturer in the world to offer leasing options for Uber drivers.
Toyota and Uber will work to create a leasing option for buyers to lease vehicles directly from Toyota, and then pay for that lease with earnings from driving with Uber.
"Toyota vehicles are among the most popular cars on the Uber platform worldwide and we look forward to collaborating with Toyota in multiple ways going forward, starting with the expansion of our vehicle financing efforts," Emil Michael, chief business officer of Uber, says in a statement about the partnership.
Other possible pieces of the collaboration that were disclosed include: in-car apps made specifically for Uber drivers, shared research results between the companies, and building out a fleet of Toyota and Lexus vehicles specifically for Uber.
The agreement is just the latest in a string of recent rideshare and vehicle manufacturer collaborations.
Earlier today, Volkswagen Group announced an investment in Israeli-based black car service Gett. The $300 million will give room for Gett to expand and dominate the niche corner of the corporate rideshare market that it already has a strong hold in.
General Motors and Lyft became the first major partnership between manufacturer and service app when GM invested $500 million into Lyft. The partnership is more than just monetary, however. Lyft and GM have been working closely to create a fleet of autonomous Chevy Volts that will be on the road in 2017, and GM leases Lyft drivers vehicles in Chicago.
Fiat Chrysler and Google recently announced a partnership, as well. Google will be making more than 100 self-driving Chrysler Pacifica Hybrid minivans.
Apple invested $1 billion in Chinese ride-hail giant Didi Chuxing in May, as well. Didi Chuxing is essentially the Uber of China.
It's unclear how Uber's Toyota partnership will affect Uber's own self-driving car initiative. An autonomous, Uber-sponsored Ford Fusion hit the roads in mid-May.
Neither company would disclose the size of Toyota's investment, Bloomberg reports.
"Ridesharing has huge potential in terms of shaping the future of mobility," Shigeki Tomoyama, senior managing officer of Toyota, says in a statement. "Through this collaboration with Uber, we would like to explore new ways of delivering secure, convenient and attractive mobility services to customers."