What Apple's Investment in Didi Chuxing Means for Uber
The company has invested $1 billion in Chinese ride sharing company.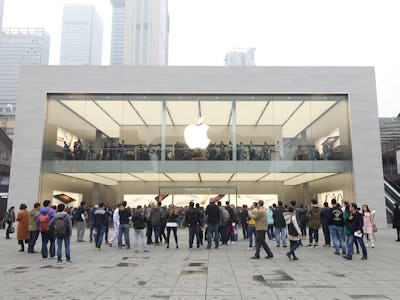 ChinaFotoPress/Getty Images)
Apple CEO Tim Cook's in China and India this week, fresh off last week's news that Apple invested $1 billion in Didi Chuxing, China's biggest ride-share company. This has led to speculation about the American company's intentions to make the Apple car, unofficially known as Project Titan — but an industry analyst says Apple's motivation is more about iPhones.
"Any company with a market cap the size of Apple at least has to look into self-driving cars at this point just because there's so much potential in that product," Harry Campbell, writer and founder for the popular blog The Rideshare Guy, tells Inverse.
The Wall Street Journal reports that Apple has been working on a secret car project for the past two years by forming a team of more than 1,000 people, and the car could come out as soon as 2020.
But he says that's not the main motivation, at least not in the short to medium term.
"Apple's target demographic is a lot of ride share users, people who are tech savvy who have a smartphone," Campbell says. "For Apple there are pretty obvious synergies, in the sense that it can definitely help if Didi is already reaching a lot of [Apple's] target market in China."
Earlier this year Apple announced its first drop in revenue in 13 years as it has struggled to sell phones in the world's most populous country. Campbell sees this as a move to help sell its relatively expensive phones in new markets.
Cook said last week that the investment was made in order to better understand the Chinese market, and during a press call Friday Didi President Jean Liu said the two companies are planning to collaborate on products, but declined to elaborate on a plan for autonomous vehicles.
On Monday, Didi executives reportedly said the Chinese car company could come to America to take on Uber by 2017 or 2018.
Uber is also present in China but has struggled to perform well amidst continued problems of driver fraud. Meanwhile, Didi claims it makes more than 11 millions rides a day and controls 87 percent of the market for private car-hailing in China.
This is the largest investment the Chinese ride sharing company has received and it's the largest investment in another company Apple has made since it acquired Beats for $3 billion.
There's a possibility that several years down the line the good blood between these two companies could spur an autonomous car partnership, but with so little knowledge about project Titan that's all just speculation. The more immediate goal is still just to sell phones.