Lyft, GM Will Put Self-Driving Cars on the Road by 2017
Autonomous Chevy Bolts will be here before you know it.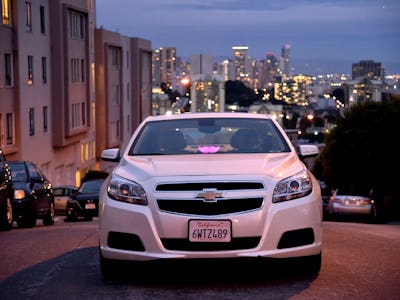 Getty
Lyft and GM plan on putting self-driving cars into Lyft's fleet of vehicles by 2017, the Wall Street Journal reports. Fully autonomous, electric Chevrolet Bolts will be zipping around in some undisclosed city, picking up and delivering real Lyft passengers on public roads before you know it.
The announcement is a power play in the race to autonomous cars. GM put $500 million into Lyft in January, and bought autonomous car startup Cruise Automation Inc. outright for $1 billion in March. GM is rapidly putting its investments to use, and, if reports are accurate, will be the first company to have commercially used fully autonomous vehicles on the road.
Details other than the 2017 target date are fuzzy; which city, the exact date, and whether the company has squared away all the legal problems are yet to be announced. Ride sharing, however, appears to be the place the general public will first encounter autonomous cars.
"We will want to vet the autonomous tech between Cruise, GM and ourselves and slowly introduce this into markets," Taggart Matthiesen, Lyft's product director, told the Journal.
Riders in the rollout market will be able to choose whether they're picked up by a car with a driver or a driver-less car. GM OnStar will handle logistics for those who elect to be autonomously driven. In a meeting in front of Congress in March, Lyft and GM spokesmen emphasized that ride sharing will be a good way to introduce people to the benefits of autonomy. The specifics of autonomous legality is still up in the air, though.
Though the 2017 target would put GM and Lyft first in autonomy, a rush of autonomous automakers isn't too far behind them. Elon Musk recently stated his belief that half of all vehicles sold will be autonomous in seven to eight years, Ford says it will have driverless technology by 2020, and Google and Fiat Chrysler announced a partnership this week to create autonomous minivans. None of the other companies have set a timeline for consumer use, however, let alone one as early as next year.
It's a quicker timeline than many people put on autonomy, but Taggart told the Journal that vetting the autonomous tech "will ensure that cities would have a full understanding of what we are trying to do here."