GM Acquires Autonomous Driving Startup Cruise Automation 
The aftermarket driverless car kits could retrofit a fleet of autonomous chauffeurs.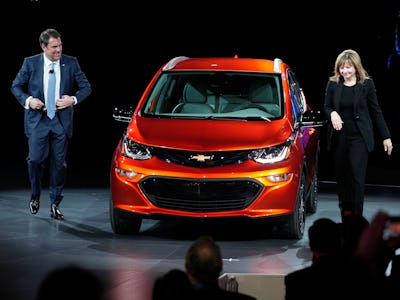 Getty
General Motors is giving its efforts to a bring a driverless car to market the business equivalent of a nitrous oxide boost. The automaker announced Friday it will acquire San Francisco-based startup Cruise Automation, an autonomous vehicle technology developer that could potentially speed up GM's timeline for launching a self-driving car on market.
Cruise Automation sells aftermarket kits priced at about $10,000 which upgrade Audi S4 and A4 vehicles with driverless technology. The company's sale price has yet to be disclosed, but a source close to the transaction told Fortune the value was "north of $1 billion," which is probably good news for Lyft. In January, GM gobbled up Uber rival Sidecar in a deal valued at roughly $30 million and announced a partnership with Lyft to develop a fleet of self-driving cars for autonomous pick ups. Neither company offered a specific plan of action, but this looks like a major first step. Lyft co-founder John Zimmer predicts we'll see something close to that within the next decade at most.
Reveling in the pure, glorious synergy of it all, both GM and Lyft representatives are scheduled to appear before a Senate Commerce Committee on self-driving cars on March 17th, where it seems likely that the Cruise Automation buyout will be commented on by at least one company.
While we wait for our self-driving automobiles to replace drivers, you can get a preview of the future on GM's 2017 models. The company is planning to roll out at least two semi-autonomous features on upcoming autos including a Super Cruise mode that will include hands-off lane following, braking, and speed control.