Can 'Preacher' Restore AMC's 'Mad Men' and 'Breaking Bad' Prestige?
The network hopes to have its first original breakout hit since 2010.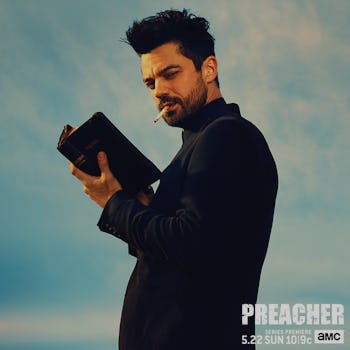 Facebook / PreacherAMC
Last night, AMC debuted Preacher, the network's newest original series, and the latest work to be adapted from a beloved cult-classic graphic novel. When Inverse caught the premiere episode at this year's SXSW in March, it was easy to see why AMC gave this particularly batshit story the green light. Bloody and gut-wrenching comic book fun already earned the network a huge ratings juggernaut with The Walking Dead, which they tried to repeat with a direct spinoff, Fear the Walking Dead. With *Preacher, they're trying to replicate that success and spawn a brand new hit all over again. But is that what AMC needs?
The answer to that question entirely relies on your preference for the AMC of now versus the AMC over half a decade ago.
The network is currently, for all intents and purposes, the Walking Dead channel, since the show pulled in a large majority of the ratings that make advertisers perk up and fork over their money. That show's Season 6 finale averaged 14-million viewers, scoring the biggest ratings of the year. Likewise, the show's spinoff, Fear the Walking Dead, has been dropping viewers from the 10 million people who watched the series premiere in 2015, but still hanging on with a strong 7.6 million viewers for the first season and just over 6.5 million viewers for the Season 2 premiere.
That premiere number was a low for the series, but it's still a relative boon for the network, whose other original shows don't attract nearly as many people. Another of the network's spinoffs, Better Call Saul, tallied just over 2.5 million viewers for the Season 2 premiere and averaged just over 2-million viewers for the entire second season. That's still solid, and far better than the middling under-one-million viewers pulled in by other AMC originals like Turn and Halt and Catch Fire. But these are just not the huge hits that The Walking Dead and its brethren are, which is where the divide happens.
AMC is no longer thought of as a prestige brand, and it shouldn't go around thinking its status is anything like the old days when Breaking Bad and Mad Men were earning them all-timer status in critical and awards circles. The Walking Dead is definitely popular, and it certainly should get awards in some respects (give Greg Nicotero all the makeup awards right now), but it isn't usually winning the Emmys that Breaking Bad and Mad Men once did. Better Call Saul is a more-than-worthy follow-up prequel to Breaking Bad, but it still needs some sort of oomph to match its predecessor. But here's where Preacher comes in.
Adapted from a 75-issue comic series by Garth Ennis and Steve Dillon, Preacher mixes religion, fantasy, and horror in a whole mess of twisted ways. It's basically a carbon copy of the notorious comic book mythology of The Walking Dead, and it also gained a similar cult following when it debuted in the mid-1990s. A decade ago it probably would have had a terrible movie adaptation, but fast forward to the contemporary TV atmosphere AMC has created – and the show is able to get the breathing room it needs to be as weird and dark as its source material.
But most importantly, it could also re-claim the critical praise and awards consensus that the network once used to define itself. They haven't had an original breakout hit get massive ratings or critical acclaim in over half a decade or more: Mad Men broke out in 2007, Breaking Bad emerged in 2008, and The Walking Dead unleashed the zombie apocalypse in 2010. Preacher needs to take its place in the ratings and on the awards stage. Co-creators and executive producers Seth Rogen and Evan Goldberg sure have the name recognition the awards people love, while current showrunner and former Breaking Bad writer Sam Catlin has the pedigree to help out. As for performances, we're pulling for actress Ruth Negga's impeccably unique take on the title preacher's feisty ex, Tulip.
With Preacher, AMC is hoping that it can break free from its dependence on The Walking Dead. It was once the place to go for dense and brilliant programming, and it's still trying to be that. It might only take a demon-possessed preacher to do it.